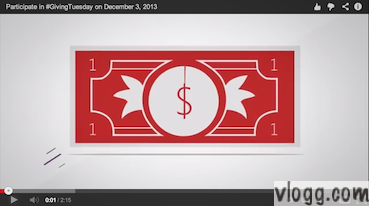 First Ever 12 Hours Google+ Hangout-a-Thon Tomorrow
First Ever 12 Hours Google+ Hangout-a-Thon Tomorrow
---
Checkout this 12 hours of non-stop giving Google+ Hangout-a-thon hosted live tomorrow on Google+.
GivingTuesday, an non-profit charity is hosting a 12 hour-long Google+ hangoutathon tomorrow to promote the creation of a national day for giving at the start of the annual holiday season.
Giving Tuesday Hangout-a-thon Details Video
This year's GivingTuesday is happening live tomorrow i.e December 3rd 2013 between 6:00 am – 6:00 pm PST leveraging the Shoppable Hangouts app.
Watch the above video to know more about this hangoutathon and RSVP through this Google+ event here.
Share or comment about this hangout using the hashtag #GivingTuesday.
Don't forget to Stop by and check it out tomorrow.