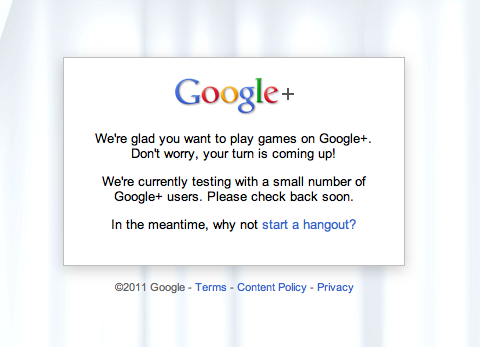 Google Plus Games Is Launched – Enabled in Phases for Google Plus Users!
Google Plus Games Is Launched – Enabled in Phases for Google Plus Users!
---
You love games and missing that feature in google plus? Your wait is over and google has answered game lovers.
Google has just announced that they are introducing social games in their google plus social network. They are currently working with 10 leading game developing companies and rolling out 16 games as part of the initial launch. We believe gaming on google+ is a great addition and gamers will love it. It is not yet enabled everyone on google+ and looks like they are enabling game features in phases. Some of our users have reported they have seen games tab and started using it.
Here are some of the gaming companies that are going to offer games in google plus
Here is some of  the game titles that are available on google plus initially
Angry birds
Bejeweled Blitz
Bubble Island
Collapse Blast
Crime City
Zynga Poker
Sudoku
Dragon Age Legends
Edge World
Zombie Lane
City of Wonder
Diamond Dash
Dragons of Atlantis
Flood It
Monster World
Wild Ones
Some of the google plus users have already reported they see the Games option on Google+ and started playing.
Look for an additional tab on your google plus interface (refer image below) if you one of the lucky one's that have games option enabled.
You can also try going to the url https://plus.google.com/games, but if games is not enabled for your google+ account, you'll get the following information message (refer image below)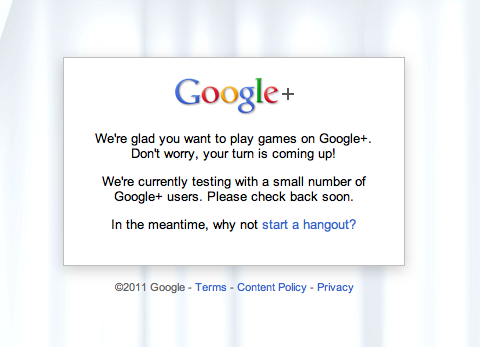 A recommendation to Google
We appreciate the new gaming feature and the social gamers are going to love it. However there is a huge population like us doesn't care too much about games. It is once of the things we didn't like in facebook. It was too distracting and intrusive – messages above game points, requests to join, blah blah. According to the current google plus UI refer above screenshot looks like the game has it's own tab and looks non distractive. However it would be even better if we can have a google+ account setting where we can turn on/off entirely the gaming or any new upcoming feature,  people who are only interested in certain features will go and enable them. This would convince all types of users and make google+ a happy place. Hope google will listen and implement this functionality.