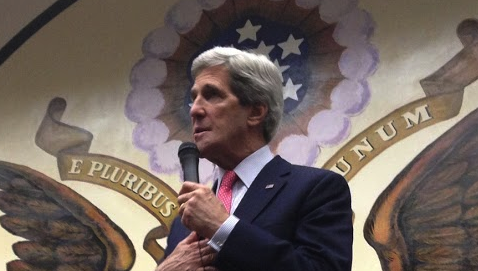 Discuss US Foreign Policy With Secretary of State John Kerry in an Hangout
Discuss US Foreign Policy With Secretary of State John Kerry in an Hangout
---
U.S. Department of state is kicking off a set of online series called Hangouts at State to bring people across the nation's borders to discuss with U.S. Government leaders their pressing policy issues.
As a first event in this series, U.S. secretary of state John Kerry is participating in a live conversation via Google+ hangout on April 19th 2013 with americans across the country.
This event will be moderated by NBC news chief and foreign affairs correspondent Andrea Mitchell.
Got a question about any of these foreign policy issues : democracy promotion, human rights, counter terrorism efforts, economic development, climate change or drug interdiction?
Then please prepare your question and head on to state department's Google+ page on the specified date to discuss it directly with John Kerry.
When?
April 19th 2013 at 1:00 PM EDT
Where?
Online via hangout at state department's Google+ page
How to join the hangout?
RSVP via this event
Of-course there will be more hangouts in the future but this one will be of more significance since John Kerry himself is going to address your questions.