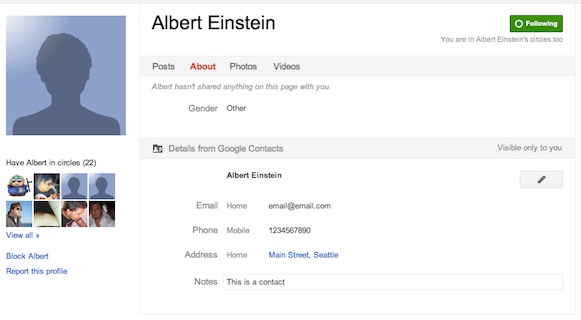 Google Contacts Gets Google+ Integration : View Your Contacts Phone, Email, Address, Etc., Details While Viewing His/her Google+ Profile
Google Contacts Gets Google+ Integration : View Your Contacts Phone, Email, Address, Etc., Details While Viewing His/her Google+ Profile
---
Contacts (contacts.google.com) is the latest google product to get Google+ integration and so the social features. Watch your contacts details appear on in his/her G+ profile (of course it is private and only visible to you).
Google contacts with Google+ features
When you are a Gmail user and manage your contacts with google contacts (phone, email, address), with this new G+ integration you can quickly, securely and privately see these contact information under your contacts Google+ profile (refer image below).
This change is going to make searching for people in google search a breeze. If you are logged into your google account and signed up with google+, instead of searching for a person elsewhere in various products you could just search on your favorite search engine. Clicking on search result with Google+ profile instantly gives you access to that persons public data as well as private data (only to you) when you have him/her in your contacts.
Here is how the above contact data appears under google contacts
When you are logged in, Google search engine is becoming more and more personalized and brings more customized results than ever before (as more google products gets integrated).