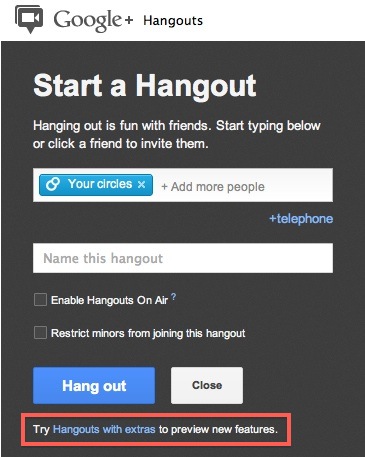 Hangouts With Extras (Hangout Features Incubator) Is Officially Retired
Hangouts With Extras (Hangout Features Incubator) Is Officially Retired
---
Hangouts with extras was an hangout incubator where google+ team tried and launched several hangout features before making it a part of the core hangout product.
Google docs, youtube, screen sharing, hangout apps, named hangouts, etc., to name a few features started in hangouts with extras and later graduated and made it to the main product. Now it's time to bid adieu for hangouts with extras. Pretty much all the features that were available as part of it are now graduated and available in hangout.
Hangouts with extras link while starting a hangout
Now the Hangout with extras link is gone
This is where the team tried and gathered feedback for all hangout features mentioned above. Now all these features added to the main hangout product, hangout with extras is no longer required and hence it is officially retired (according to chew of google+ team).
Although one cool feature we are going to miss forever is named hangouts. Earlier you create a named hangout and link was permanent which was very useful for regular scheduled meetings.
All we have to do is share that link with the team and everyone just use that link to join the hangout. Earlier it was not required to start a hangout and invite the circle every time for a meeting.
If you have created and used named hangouts before it won't work anymore and you'll be automatically redirected to the hangouts page to start a hangout.