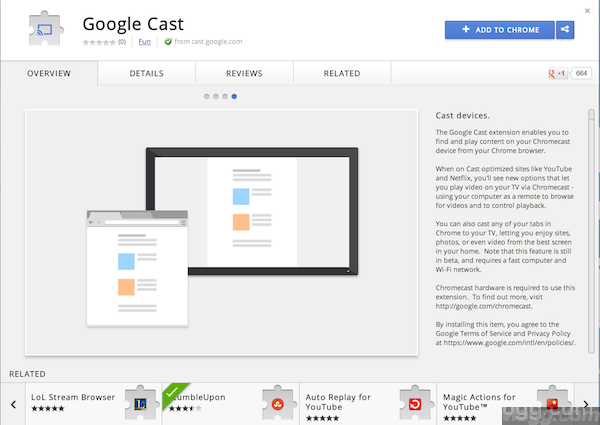 Google Cast – Chrome Extension to Broadcast to Your Cast Devices
Google Cast – Chrome Extension to Broadcast to Your Cast Devices
---
During today's Chrome and Android press event, Google released a new device called Chromecast that allows to easily watch online videos and music content on your big screen TV.
This Chromecast device just costs $35 the cheapest of all streaming devices available on the market today. Unfortunately If you plan to buy one, you need to wait for sometime since chromecast was sold out in couple of hours.
To complement this device, today Google also released a new chrome extension Google cast that allows to browse and play cast optimized sites from your chrome browser on desktop to your Chromecast device. With this chrome extension, you can even broadcast your chrome tab to your TV and enjoy browsing sites, music, videos and all online content on your big screen TV.
Google Cast chrome extension is available here. Just click Add to Chrome button and start streaming to your TV.
Google Cast details (according to chrome store)
The Google Cast extension enables you to find and play content on your Chromecast device from your Chrome browser.

When on Cast optimized sites like YouTube and Netflix, you'll see new options that let you play video on your TV via Chromecast – using your computer as a remote to browse for videos and to control playback.

You can also cast any of your tabs in Chrome to your TV, letting you enjoy sites, photos, or even video from the best screen in your home. Note that this feature is still in beta, and requires a fast computer and Wi-Fi network.

Chromecast hardware is required to use this extension. To find out more, visit http://google.com/chromecast.
This extension will only work with Chromecast device, so you need to buy the device before using this extension.
Enjoy!