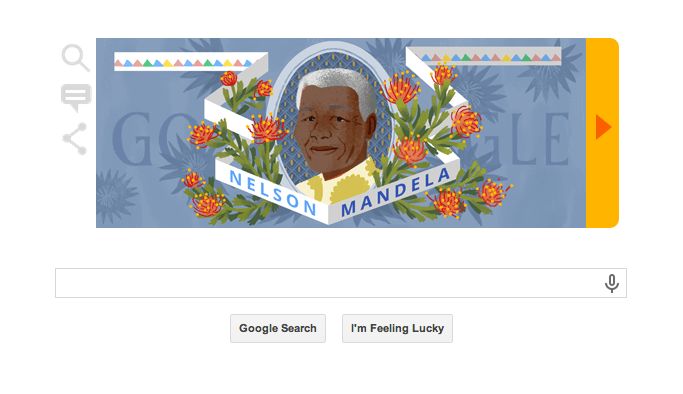 Nelson Mandela Google Doodle on His Birth Anniversary Today
Nelson Mandela Google Doodle on His Birth Anniversary Today
---
Former South African President, Nobel Laureate & Politician Nelson Mandela was one of the most respected leader of our times.
Nelson Mandela was born this day (July 18th 1918) in South Africa and sadly we lost him last year in Dec 5th 2013.
On the eve of his birth anniversary today, Google honors this great leader with an animated Google Doodle and has mentioned important quotes from his life as slides within the doodle. You may check out the doodle live on google.com or through the video below.
Quotes from Mandela
… as appearing in today's Mandela doodle
No one is born hating another person because of the colour of his skin or his background or his religion

People must learn to hate and if they can learn to hate they can be taught to love. For love comes more naturally to the human heart than its opposite

What counts in life is not the mere fact that we have lived. It is what difference we have made to the lives of others that will determine the significance of the life we lead

Education is the most powerful weapon which we can use to change the world

For to be free is not merely to cast off one's chains, but to live in a way that respects and enhances the freedom of others
Great thought and powerful words. Education is the most powerful weapon which we can use to change the world is one of my favorite quote of all times.
Nelson Mandela Google Doodle Video
Everyone has something to take away from this Doodle as well as from the life this great leader.
Check it out, learn more about Mandela and share your thoughts below.