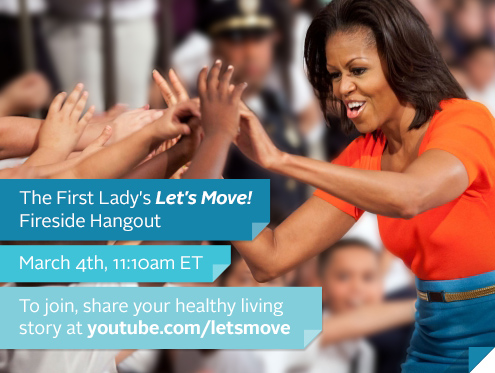 Meet First Lady Michelle Obama Google+ Fireside Hangout on March 4th 2013
Meet First Lady Michelle Obama Google+ Fireside Hangout on March 4th 2013
---
Let's Move is a wonderful program developed and launched by First lady Michelle Obama to solve the epidemic of childhood obesity within a generation.
On March 4th, Michelle Obama is joining her first ever fireside hangout on the eve of 3rd year anniversary of the Let's Move initiative.
Where?
Online through Google+ hangout / YouTube
When?
March 4th 2013 @ 11:10 am ET / 8:10 PST
How to join?
RSVP via Google+ event. But you have to share your healthy living story at www.youtube.com/letsmove by February 28th to take part in the hangout (However you can always watch the hangout live).
More details about the fireside hangout
On March 4th, the First Lady will join her first-ever +Google+ Hangout to discuss Let's Move!, her initiative to ensure that all our children grow up healthy and reach their full potential. Mrs. Obama will join families from around the country in a virtual conversation moderated by Kelly Ripa, co-­host of +LIVE with Kelly and Michael.

For a chance to join the Hangout with the First Lady, share your thoughts and questions on raising healthier families and communities on the Let's Move YouTube channel by Thursday, February 28, 2013: http://youtube.com/letsmove

Then tune in to the First Lady's Hangout live on the White House Google+ Page or Let's Move YouTube channel at 11:10 a.m. ET on March 4th.