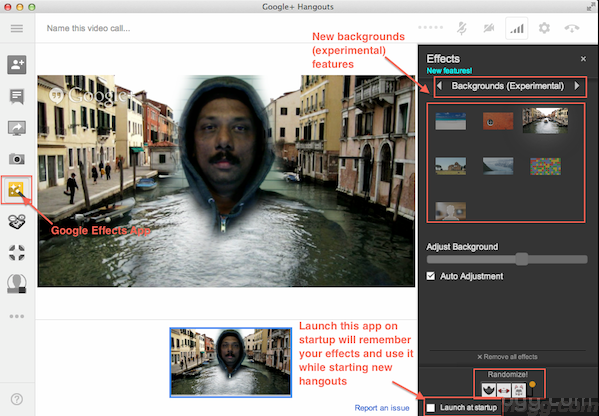 The Google Effects App in Hangouts Introduces Beach Backgrounds!
The Google Effects App in Hangouts Introduces Beach Backgrounds!
---
Want to hangout like from a beach or riding a boat in Venice or even with a Glacier in the background? Now it's possible, thanks to the new experimental backgrounds in hangouts.
Of course hangouts can't take you to these places (unless you travel there by yourself 😉 ) but at-least it will try to spice up your hangouts with cool new background effects introduced today.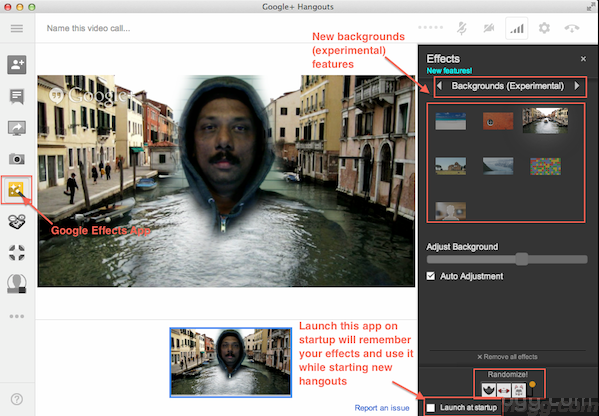 List of Background Effects
Beach

Brick Wall
Venice
Temple
Glacier
Mosaic
Blur Background
Here is Kai Ding of Google+ hangouts team has to say about this feature
The Google Effects app brings fun overlays and sounds to Hangouts, and today we're updating the app with a number of new features:

– Background effects: Now you can blur your background in the video feed or replace it with a beautiful image. Hangout from a beach or glacier without leaving your living room!

– Launch at startup: You now have the option to automatically launch the Effects app when you start a Hangout. We also remember which background and overlays you like the most.

We hope these improvements to the Google Effects app make your Hangouts even more fun. Backgrounds in particular are still experimental, so please share your feedback so we can continue making them better!
Tips for using Hangout Effects
Click on the right triangle several times to get to Background effects features

Click on a thumbnail of an effect to use that effect (click on beach thumbnail to use beach background)
Uncheck Auto Adjustment check box to manually adjust backgrounds
Check the Launch at startup check box to save and remember current background effect so that Google Effects App gets automatically launched and background effect applied when you start a new hangout in the future.
Checkout Google Effects App inside hangouts and try out your favorite background effects. We've tried out Venice in the image above.