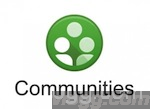 Google+ Discuss Forum Closed in Favor of Google+ Discuss Community
Google+ Discuss Forum Closed in Favor of Google+ Discuss Community
---
Google+ Discuss forum was a Google Group's based discussion forum that was started to help Google+ users with their day-to-day problems while using the social network.
With the recent launch of Google+ Community and the growth of the Google+ Discuss Community it became increasingly redundant for users and also the contributors to maintain both. Therefore Google+ Discuss forum will be discontinued as of September 17th 2013 (i.e in a month time) and will be switched to read only mode. (You may still search and read old posts but won't be able to post any new questions.)
Here is the announcement according to Google+ Discuss Forum
Important announcement: the Google+ help community is moving! For the last 2 years, this forum has been our home and a place for users to ask questions about Google+ and receive answers from fellow users, Top Contributors, and even Googlers. Going forward, you can ask for help and learn new tips at the Google+ Help community here, in Google+. You'll have 30 days to shift gears – then, on September 17th, we'll freeze the forum, so you can still read helpful posts, but will be asked to post any new questions in the Google+ community.
You can join Google+ Discuss Community here.