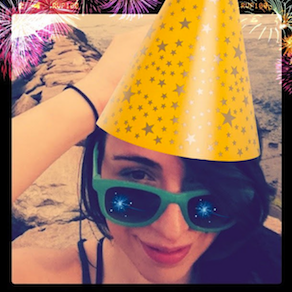 Celebrate New Year 2012 With Virtual Live Hangout Concert by Daria Musk on Google+!
Celebrate New Year 2012 With Virtual Live Hangout Concert by Daria Musk on Google+!
---
We are just few hours away from welcoming New Year 2012 in the US. What would be a better way to celebrate New Year than watching a virtual live concert with the convenience of wherever you are and specifically played for you?
+Daria Musk a musician, singer and song writer is playing many 30 minute long live hangout concerts from Las Vegas, USA on the eve of New Year 2012 for people around the world.
You might have heard about YouTube sensation (videos posted on youtube become popular with millions of hits) which makes people instant celebrities. Daria is a hangout sensation; An early adopter of Google+ and became popular by playing live concerts on Google+ hangouts.
She is one of the most followed people on Google+ with around quarter of a million followers (246,566 followers to be exact as of this writing). Above all she is a very talented and humble person with a beautiful voice.
Here is what Daria says about herself
Hi, I'm Daria. I'm musician fueled by the effervescent pop of the universe, the rock of planet earth & the love in your heart. Singer/Songwriter. Laughing In The Face of The Lion. I play concerts in Google+ Hangouts to sing for you live face to face.
This virtual live concerts are titled as New Year's Eve 2012 – Hangout Around The World!
She has created and shared a Google docs spreadsheet where you can register and learn more about other partipants and hangout events for various time zones around the world.
Circle +Daria Musk on Google+ and visit her profile to join hangouts and watch live virtual concerts. It is powered by Hangouts on Air, so no worries about the 10 user limitation.
Celebrate New Year with a live concert and have fun!