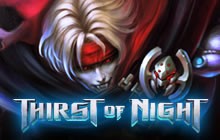 New Game 'Thirst of Night' Released on Google+ Social Games
New Game 'Thirst of Night' Released on Google+ Social Games
---
Are you a vampire game fan? Here is a new game Thirst of Night (bloodthirsty vampires in a fight for supremacy) released on Google+ social games
Thirst of Night game on Google+
Join bloodthirsty vampires in a fight for supremacy!
Humans had their day in the sun. All the while, we vampires waited in darkness, suffering for centuries under the cruel hands of our mortal masters. Freedom came with the massive blast of a magnetic pulse. It triggered volcanic eruptions around the globe, choking the sun with ash and purging the human cities with fire. Now, in a world of perpetual twilight, we drink the blood of our enemies to satisfy the Thirst of Night
Click to Play the game on G+ games
Enjoy the new game!