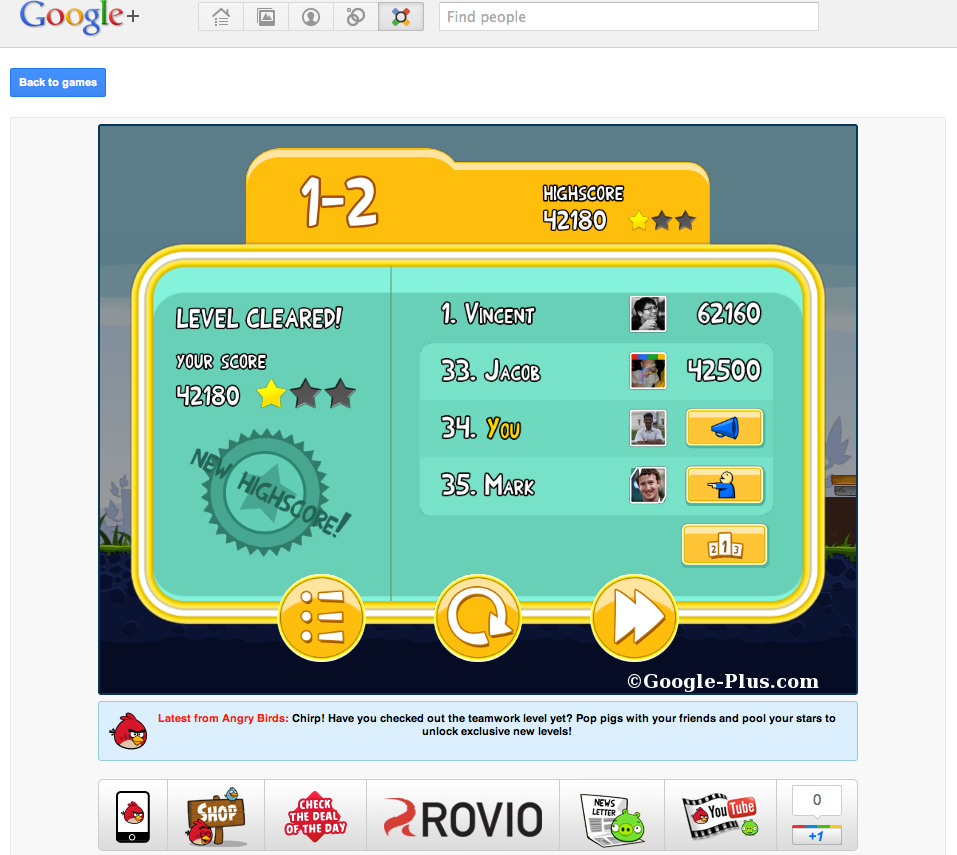 Google Plus Social Games Is Awesome, Done the Right Way!
Google Plus Social Games Is Awesome, Done the Right Way!
---
Have you tried games on google plus? Give it a shot (once enabled for you), it is awesome.
So, yesterday I got access to social games on google+ and decided to give it a shot. I'm not a gamer but once in a while play some games on my android phone. One of the games i play once in a while is angry birds, I know who doesn't love angry birds – a simple and nicely done game out there.
Clicked on the games tab on google plus interface and on the All games link on the left side. It presented me with a list of games with icons. One of the games I'm familiar with was angry birds.
Clicked on the angry birds icon and it loaded the game. The loading experience was similar to that of angry birds chrome app on the chrome web store.
Once loaded i started playing a few levels and it was quite similar to playing angry birds on any other device like iphone, android or on the web with chrome web app, etc..
But the interesting thing to note here is, at every level as you play and score you'll see people from your circle appear on the top right side of the game with a score better than you(refer to images below). And once you complete a level it'll present you with a leader board comparing your score to others in your circle. Ideal way to play a game similar to playing in the real world. Social games on google plus is awesome.
This picture shows a friend in my circle with a better score than me
This picture shows leader board on completing a level
The process was very simple, easy to follow and a better user experience. I'm pretty sure gamers will just enjoy social games on google plus.
Like i said earlier, i'm not a gamer, which means the new google plus gaming feature shouldn't interfere with my daily usage of google plus. Google has done a pretty good job of placing games in an games tab of it own and it won't interfere in my usage of google plus user experience. I only will enter into a gaming experience if i intentionally  click on the games tab else my google plus usage continues as usual, neatly segregated – the right way in my opinion.
I'm pretty sure you guys will love it, Happy Gaming!!!