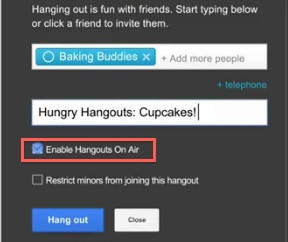 Hangouts on Air the Broadcast Live Feature Now Released for All Google+ Users in 40 Countries!
Hangouts on Air the Broadcast Live Feature Now Released for All Google+ Users in 40 Countries!
---
Most of us use Google+ hangouts pretty much everyday and really enjoy it. A great face to face communication feature that allows to collaborate in real time through video.
Due to its popularity more and more people join hangouts but unfortunately there is only room for a maximum of 10 hangout users including the person who started the hangout.
People requested to allow for more users in a hangout. But how much of a productive conversation you could have when there is a large audience?.
So, google+ started working on another feature called Hangouts on Air (this is similar to hangouts but if the hangout is full the rest of the people just watch it live as viewers) and released as trial to a small group of G+ users with large followers. This feature was a instant success. When people used the same they fall in love of this great feature and more people requested for it. (Even we were inundated with requests for how to request for this feature)
Few weeks back Google+ announced this feature is coming to all. The good news is, today Chew chew of Google+ hangout team has announced the public availability of this feature to all G+ users. This is going to be really huge.
Never ever before in the history of internet a feature like this has existed or tried. This has the potential to turn every creative individual into a TV station of their own with a world wide audience. You could run your own show by having your own followers.
Hangouts on Air features
Up to 9 people can be invited and join the hangout
Once the max number of users reached rest of the users can watch it live like a video in the G+ stream
Once the hangout is over it'll be immediately published to your youtube account (as private)
You could choose to publish is a video on youtube
Once the hangout is over, you have the option to edit the video
You can view number of users watching it live
This is a much awaited feature and they have started to roll out to all Google+ users across 40 countries. Since this is a huge roll out to 170 million+ users it could take few days or weeks before everyone sees it. So, please be patient before you see it in your G+ account.
Just click on the Enable hangouts on air checkbox, type in a name for the hangout and click on the hangout button to start a hangout.
Hangouts on Air Video
Right after this becomes available to everyone, no more saying i missed that hangout. Everyone wil be either able to join the hangout or watch it live, cool huh?