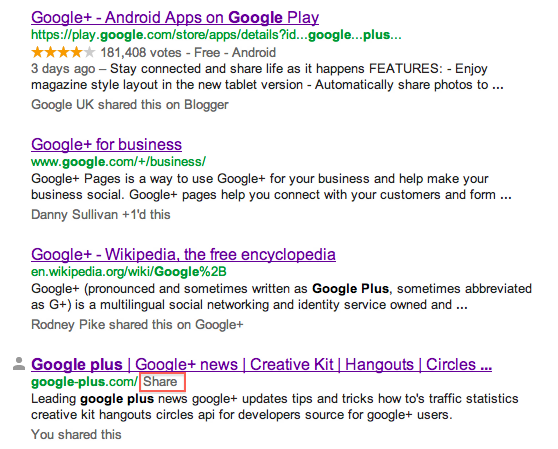 +1 Is Out and New Share Link in Search Results to Share Website With Your Friends or Circles
+1 Is Out and New Share Link in Search Results to Share Website With Your Friends or Circles
---
Earlier if you are logged into your Google+ account and search for a keyword on the google search engine, you'll find a +1 button next to every search result also known as SERP's.
If we like the result we use to +1 which may or may not be a vote on that website page and may help with that site ranking or SEO. Now the +1 button is gone and replaced with a new share link.
According to Sean Liu a product manager on search team, they want to make it easier for the users to share the result / great website with our friends or circles right from search results.
This is a experimental feature and rolled out to large number of users.
Just login with your google+ account, search for a keyword on the search engine, hover over a search result and notice the Share link as highlighted on the screenshot above.
Clicking on the share link will launch a Google+ share dialog that quickly allows to enter a comment and share with your friends / circles.
Please take a moment to try it out and share your thoughts through comments below.