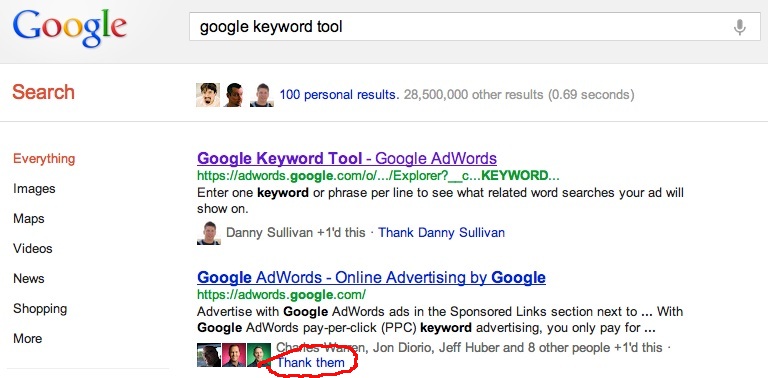 'Thank Them' Thank Your Friends or Circles Right From Google Search for Their +1's
'Thank Them' Thank Your Friends or Circles Right From Google Search for Their +1's
---
Your friends or people in your circles whenever they find interesting content online or in google+ they +1 it. With the recent introduction of personalized search (a.k.a search plus) and when you search for a keyword in google, if there is a content match that is +1'd by your friends/circles it immediately appears on top of the search results (SERP's).
'Thank them' for +1'ing
You may trust the content +1'd or promoted by your friends / circles than search results (SERP's) than an algorithm thinks is a better match. Now you can even Thank them in Google+ (thank your friends / circles) right from google search results.
When you click on Thank them link, it automatically launches a Google+ share box pre-populated with a message Your +1 helped me find this. Thank you! along with people who +1'd this.
You can just click Share button and say thanks, Cool huh!