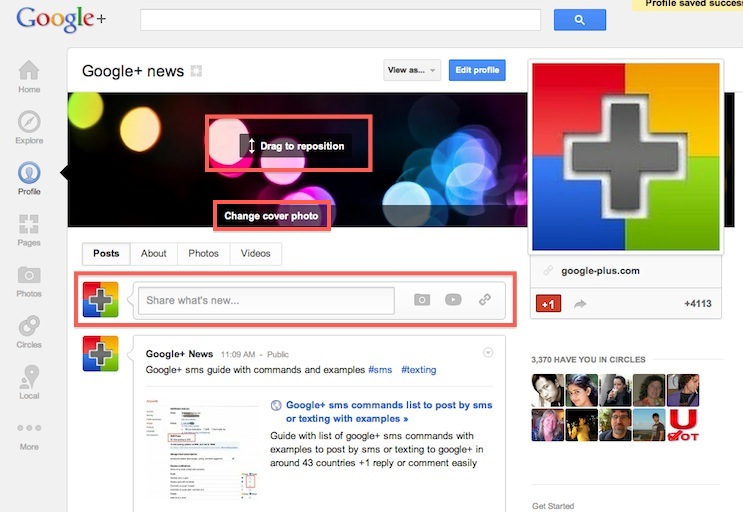 Cover Photo Gallery and Albums, Sharing From Profile & Instant Resizing Among Some of the Tweaks Released Today
Cover Photo Gallery and Albums, Sharing From Profile & Instant Resizing Among Some of the Tweaks Released Today
---
Google+ profiles and pages team silently released some tweaks to profile and cover photos that were requested by many users.
Share box in your google+ profile
Google+ share box initially use to only appear on main stream page. When you want to share something with your circle's you have to navigate frequently to the home screen. Now with the new share box you could also share right from your own profile (refer image above).
New cover photo gallery
Now you have cool predefined collection of cover photos provided by google+ and readily available inside cover photo gallery to spice up your profile. Just click change cover photo as highlighted on the first image above to launch the gallery.
Instant resizing, drag and reposition
When you upload any new photos as cover photos, the photos will be automatically and instantly resized to better fit your profile cover photo. All you have to do is drag the image to position it correctly based on your own preference. In the first image note that now your see Drag to reposition while you hover over your cover photo. Note: Cover photos must be at least 470 pixels wide.
Manage your own cover photo album
Now you can upload and manage your own cover photo album (previously you overwrite whenever you upload a new one) and select a different cover photo each time. Just make sure each picture is at least 470 pixels wide.
This is a great example of feedback from google+ users are listened and implemented. Enjoy the new features and keep submitting new feature requests and feedback.