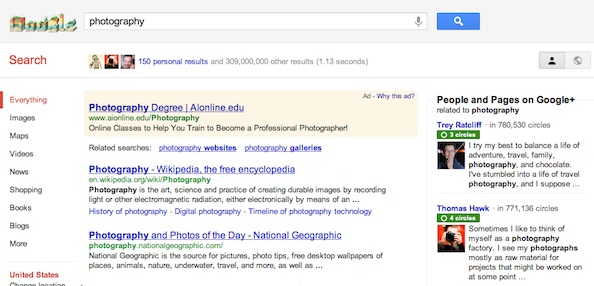 Google Search Is Google+'D! Search Plus Your World With Personal Results [Video]!
Google Search Is Google+'D! Search Plus Your World With Personal Results [Video]!
---
Google today announced the launch of  personal search called search plus your world. This new feature brings in personal results, profiles, related people and pages to your google search.
As you might already know every google product is getting social touch and you might have read our posts covering them. Now it is time for the core google product search to get social. You might have already noticed content authors and circles already showing up in search results (when you are logged into Google+).
Now with this new release it's getting even personalized better. When run in personal results mode, pretty much you are searching content, photos, videos, etc from your connections (your most trusted source).
Here in this image, if you notice there are two new buttons on the right (a person icon and a web icon button). The first one is to show personal results and the second one to hide personal results (shows web results like it used to be before). We searched for the keyword photography and you can see 150 personal results appear in the top along with results on the right from people and pages on Google+.
When we clicked on hide personal results button, the personal results were gone. But the people and pages on Google+ remained because we were still logged on to Google+.
Then when we clicked on the personal results link, it pretty much customized the search results around our connections (refer image below). Note that a person icon appears in front of every result indicating it is a personal result.
With this new feature, the search results are fully customized with content from people you trust. for e.g a post / recommendation from a person/friend in your circle, photo's and videos from your circles, etc..
Key highlights
Search for Google+ photos and posts from your circles
Discover relevant images and pages shared by your circles
Customized results based on your web history (past searches)
Searching for name brings people who you know than strangers (you are connected one way or the other)
If this is feature is not showing up right now, dont' worry it'll be available shortly.
Google search is plus'd video!
Enjoy your favorite search engine customized with your own personal results! The results are just for you the way you want it!!