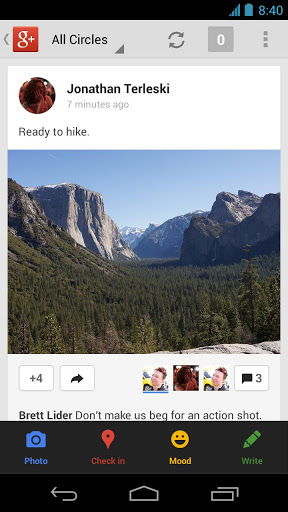 Google+ Releases Android 3.6 and Iphone App 4.3 Version With Lots of New Features!
Google+ Releases Android 3.6 and Iphone App 4.3 Version With Lots of New Features!
---
Google+ releases android 3.6 and iphone app 4.3 version with lots of new features!
Google+ app new features (Android 3.6 & iPhone 4.3)
New stream design (including comment previews and swiping through photo albums inline)
Control the volume of posts that you see in your stream from individual circles/communities
New app setup flow
Filter search results by best or most recent
Tell others about a community (by sharing it or sending an invitation)
Re-share posts to communities
Share your current location on your profile and control who can see it via G+ settings
Enable/Disable location sharing in G+ settings
Here is a list of new community features (according to +Brian Glick)
The option to invite people to a community, or share a community
The ability to adjust the volume of community posts in your Home stream
Moderators can now remove, report, and ban from any post
You can now reshare posts to a community
Moderators can now approve / deny flagged posts
Moderators can now moderate comments
You can now post from the "top" of a community (no need to first browse to a category)
You can now post to a community from the "Home" view
Moderators can now manage the member list
You can now search for members from the member list
The communities homepage now displays unread counts
It's now easier to see your joined, invited, and recommended communities all at once
The new android app is available in play store and the iPhone app in app store for immediate download or upgrade, Enjoy!