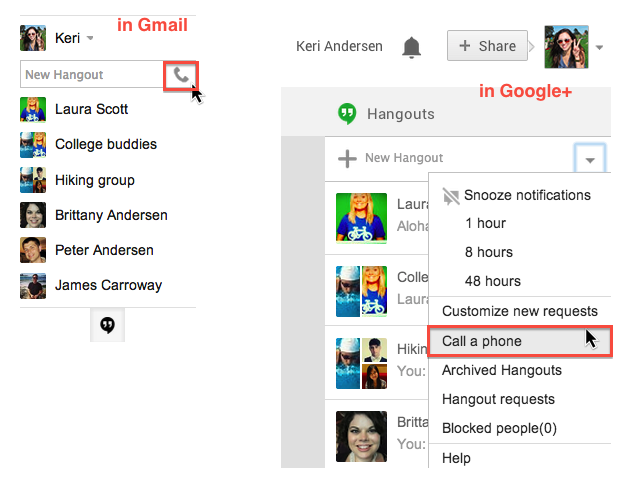 Now Make Free Phone Calls From Gmail and Hangouts Web App, It's Back!
Now Make Free Phone Calls From Gmail and Hangouts Web App, It's Back!
---
Google+ recently replaced google talk on the web with an all new hangouts app inside Gmail, Google+ and also via a new chrome extension.
Google Talk on the Web supported making free phone calls within US and Canada (powered by Google Voice). But unfortunately hangouts app lacked this important feature which was a deal breaker for many and have to revert back to the old chat (in order to use phone calls).
Make free phone calls from hangouts app
Here is the good news. According to Google+ team, feature request to add phone call support was pouring in and now this cool feature is rolling out in coming days (to Google+ hangouts app on the web, Gmail and Chrome Extension).

Here is what Alex Wiesen, Google Software Engineer has to say about this feature
we've heard loud and clear that you miss the ability to make calls from Gmail, so today, we're happy to announce it's back
Some points to note
Calling and receiving calls in US and Canada is FREE

Now anyone can call US and Canada for FREE wherever Hangouts calling is available (Watch for phone icon in Gmail or Call a phone option in hangouts app)
If you are using old chat in Gmail, just click your profile picture in chat and choose Try the new Hangouts to use the hangouts feature
Google+ hangouts now allows to call multiple phone participants at once and have audio and video conferencing at the same time (previously you have to invite one person at a time )
Hangouts is going to be the future of google voice (which means voice is going away soon and replaced with Hangouts)
This announcement applies only to hangouts web app (No support yet for the hangouts mobile app)
This feature is rolling out in coming days, so if you don't see a phone icon, please be patient, it'll appear in couple of days.