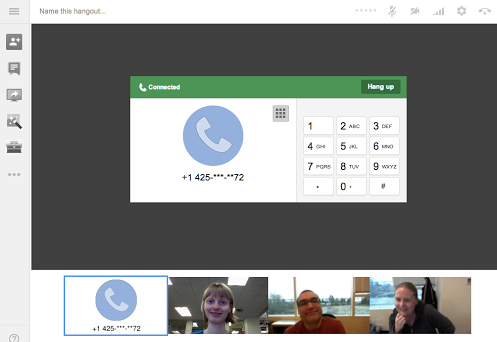 Hangouts Now Allow Up to 5 Callers via Telephone [Audio Conferencing]
Hangouts Now Allow Up to 5 Callers via Telephone [Audio Conferencing]
---
Recently retired Hangouts with extras introduced this hangout via telephone feature and later this became one of a key feature in Google+ hangouts.
While hangouts allowed up to a maximum of 10 users (including the host) via desktop or google+ app in smartphones, up until now you can only invite up to a maximum of 2 participants via telephone (audio conferencing).
Hangout via telephone is a great feature especially when people are not near a desktop or in places where there is no internet at all (phone line is required).
Therefore just inviting 2 people via telephone was kind of limiting. Don't worry, not anymore. Today onwards you can invite up to 5 participants via telephone and absolutely free (US and Canada only).
List of Hangout via telephone changes…
You can invite up to 5 participants via telephone

If you are the host (caller), you'll see details about the call duration and cost per minute
A full dialer keypad (instead of a simple textbox) to dial and hangup
All calls to US and Canada are free
International calls charged at a very low rate/minute (rate list here)
Enjoy the new feature and share your thoughts!