Google+ Notifications Chrome Extension
Google+ Notifications Chrome Extension
---
Want to check out Google+ notifications even without opening Google+ page? Then this notifications chrome extension will be of great help to you.
When people comment, +1, re-share, mention you in a post or add you to circles you'll get notified (based on how you have configured to get notified by email, phone or) through Google+ notifications.
But to read notifications you have to either goto http://plus.google.com or any other google products to see the bell icon on the top right and read notifications.
Google+ notifications chrome extension simplifies that process by notifying us by checking in the background for any new notifications and updates the bell icon with count. Clicking on the bell icon will launch the notifications flyover and you can immediately starting to read all the notifications (refer image below).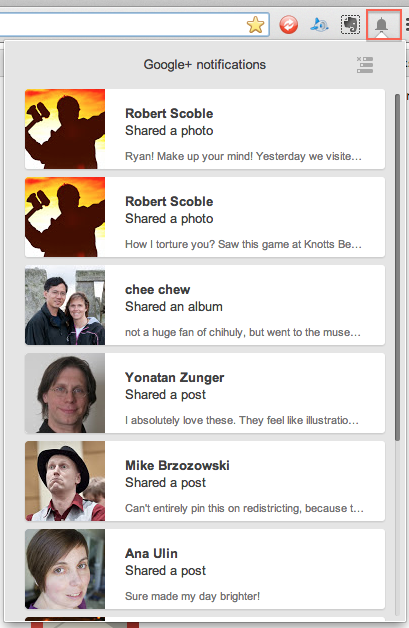 Install this chrome extension by clicking here
This extension is provided by Google so you can be assured that this extension is updated regularly when changes are made to Google+.
NOTE: There was some hiccups and slowness in this extension UI for a short period of time since the new notifications roll out but not it seems fine and stable.
Please try out and share your experience through Google+ comments below.