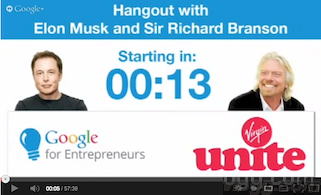 Elon Musk and Richard Branson Hangout Video
Elon Musk and Richard Branson Hangout Video
---
Google for Entrepreneurs hosted a live Google+ Hangout this morning featuring two well-known guests Elon Musk and Sir Richard Branson. Here is the recorded video of the hangout.
For those of who don't know, Elon Musk is a leading entrepreneur in the U.S., known for his founding of Space-X (a Space Transportation Company), co-founding other successful companies like Paypal (online payment service) & Tesla Motors (fastest growing electric car company). And Sir Richard Branson is a British Investor, Founder and Chairman of Virgin Group (Group of companies focused in travel, entertainment and lifestyle).
If you are an entrepreneur or aspiring to be one someday, you should watch this video since everyone has something to learn from these 2 successful entrepreneur's.
Enjoy!