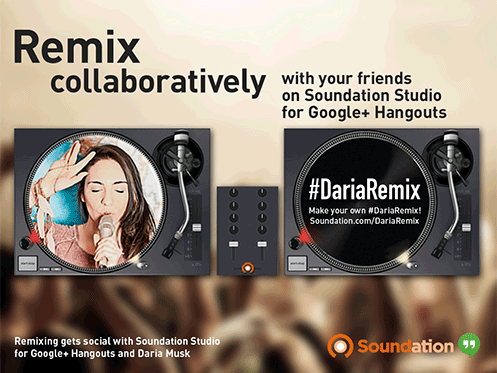 DJ in Hangout Remix Contest and Win Chromebook Pixel
DJ in Hangout Remix Contest and Win Chromebook Pixel
---
Google+ Music Sensation Daria Musk has Announced a First Ever Hangout Remix Contest for a chance to Win a Chromebook Pixel.
According to Daria all you have to do is use the Soundation Music Making Hangout App (launch from here), be a DJ, Remix and Submit your entry to win a cool Chromebook Pixel (a $1299 value) and many other goodies.
Daria's own "Ghost" song is pre-loaded into the app to get you started right away. So what are you waiting for, put your DJ skills to play immediately.
The contest runs between 14th October 2013 to 14th November 2013. You've got one full month.
The Winner of the contest will be announced on 15th November 2013.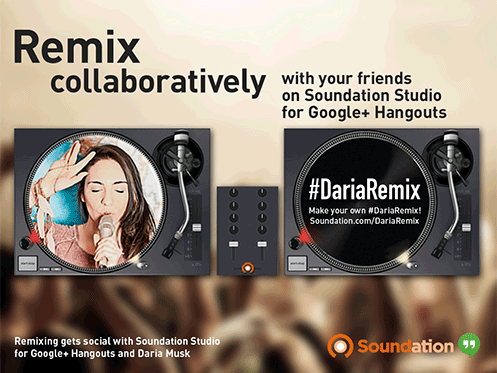 Please use the hashtag #DariaRemix to submit your entries and spread the word about this first ever hangout contest.
Don't forget to checkout Daria Musk's Google+ post for more details and updates about this contest.
Rock your DJ skills and this is your chance to get the world notice you and your music talent. (Remember Daria Musk is a very talented, popular musician on Google+ with over 3 million+ followers and this is your chance to Wow her!)
Not interested participating in the contest? No problem. Still you can enjoy the hangout music making app, you may try DJ solo for yourself or play with your own friends, family or circles via a Google+ hangout.
Please checkout Soundation Hangout Music making App (launch from here) and share your thoughts through Google+ comments.