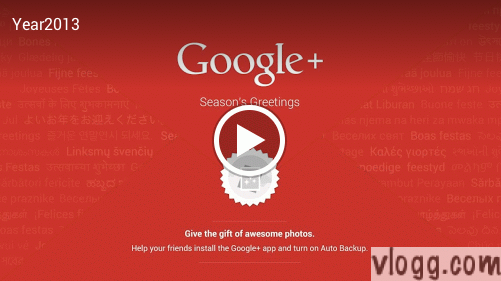 Google+ Gift: Year 2013 Album Video Created From Your Photos and Videos!
Google+ Gift: Year 2013 Album Video Created From Your Photos and Videos!
---
Google+ wants to end this year with a gift of Auto Awesome by creating a Video specially for you from your own photos and videos called "Year in Review".
In other words your own Google+ 2013 Video Album that includes some of the best moments shared by you on Google+ through Photos and Videos. Cool huh?
This embedded post from Google's Anil Sabharwal has a sample video created from his own photos and videos. This gives you an idea of what to expect from your own video.

This 'Year of Review' or 'Your 2013 Google+ Video Album' will be created, stored securely and only visible / available to you by default. Of-course you'll have the option of sharing with your family, friends or even the public.
What you have to do to generate this video?
Pretty much nothing. If you are using Google+ auto backup (previously instant upload) feature which sync's your photos and videos to your Google+ account, the algorithm automatically picks photos and videos from it and creates a video for you. Once the video is ready, you'll get a notification sometime next week if this video gift is waiting for you.
So if you are interested, enable auto backup and start uploading high quality photos/videos to your Google+ account. For those already use auto backup or uploaded photos/videos, Google+ algorithm will automatically pick it from there. Please be patient and wait for your gift notification.
This is the first, unique and surprise feature offered by any social network. Enjoy your Google+ gift!