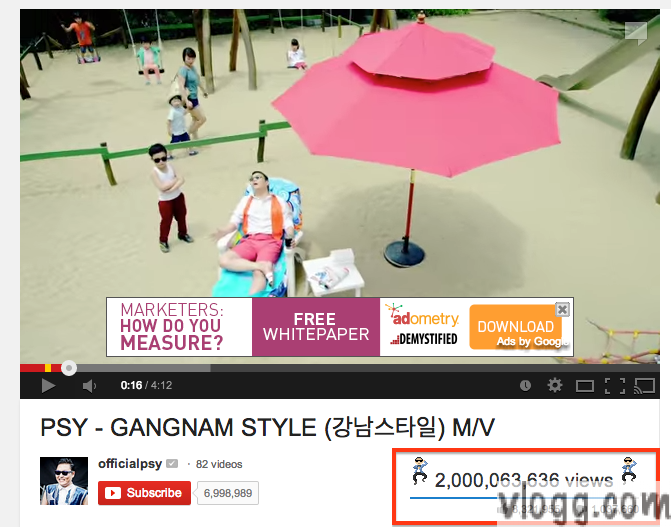 PSY Gangnam Style Music Video Crosses 2 Billion Views on YouTube
PSY Gangnam Style Music Video Crosses 2 Billion Views on YouTube
---
PSY's popular Gangnam Style Music Video crosses over 2 billion views on YouTube.
This is the first ever video in YouTube history to cross 2 billion views and also make new milestones in other metrics of subscription, comments, likes and dislikes (summary below)
PSY Gangnam Style Video Crosses 2 Billion Hits
Gangnam Style Video Statistics
Over 2 billion views (2,000,063,636 views as of this writing)
Over 6 million subscribers (6,998,989 subscribers) to officialpsy channel
Over 8 million likes / thumbs up (8,321,955 likes)
Over 1 million dis-likes / thumbs down (1,037,660 dis-likes)
Over 5 million comments (5,183,506 comments)
YouTube celebrates this successful video by marking the 2 billion views with an exclusive PSY dancing icon in front and after the views display (refer highlighted section in image below).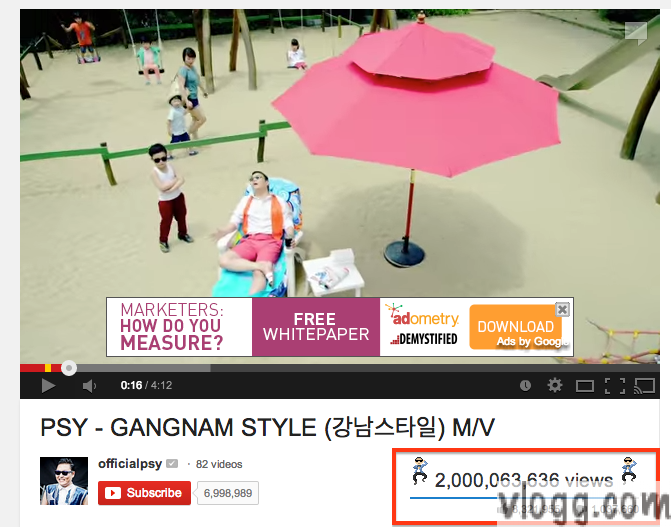 This video is a great example of how YouTube empowers any individual with unique ideas to reach the mass without having a big budget or no budget at all. In fact PSY earned millions through advertisement income through this video.
Share your thoughts about this video and the opportunities that YouTube provides through Google+ comments below.