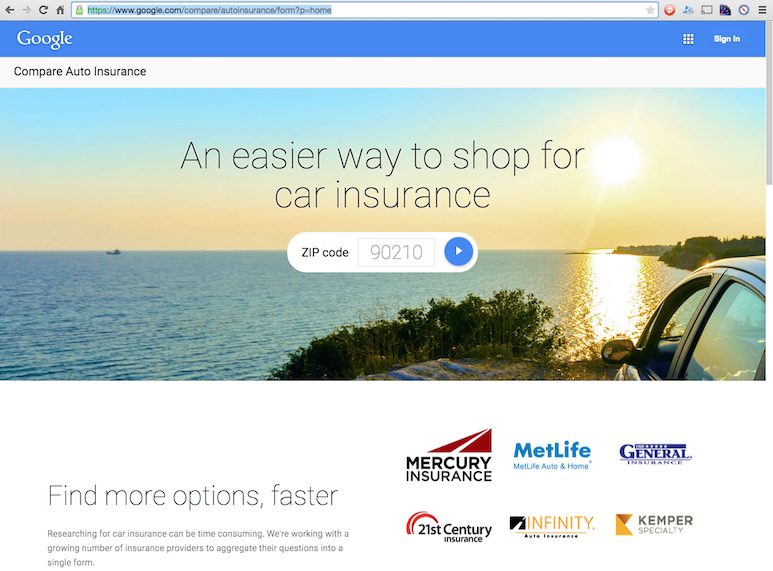 Google Launches Compare Auto Insurance Quote Tool
Google Launches Compare Auto Insurance Quote Tool
---
If you are in the market shopping for a new insurance or renew your existing Auto Insurance you might already know how hard it is to find a best quote.
You've to visit each Insurance providers website, fill in all the personal and driving information before it can provide you a single auto insurance quote based on your needs. You have to repeat the same again and again in each website before you can figure out the best auto insurance price.
Wouldn't it be great if there is a single website or tool where you'll input all the required details and get insurance quotes from all competing insurance providers in one shot?
Thanks to Google that our wait is now over. It is called Google Compare Auto Insurance Quote service (click here for quote). Just input your zip code followed by personal details to get competing insurance quotes from over 14 leading insurance providers with the click of a button.
The good news is the service is live and available in many US states not all of them. A search for Zip Code 98101 in Washington WA state returned the following message
Sorry, we don't cover your state
The service isn't currently available in your state, but we'll be expanding to more locations soon. Stay tuned!
… which means it is not available in all states as of this writing. But according to the license page, Google Compare Auto Insurance Services has received licenses to operate in 49 US states. So it is just matter of time before the service will be available in other states.
This is great news for those all waiting for something like this for a long time. Can't wait to try this out once available in my state of WA.
Best of all this is a FREE service from Google and they get compensated by Insurance companies. Here is the detail we found on the site about the cost
Our service is free to you but to operate this service, we are compensated by the insurance providers on our panel.
This service is also available on all leading smartphone devices (iOS, Android) as a mobile website.
What do you think about Google Insurance Quote? Are you planning to use it? Share your thoughts below.