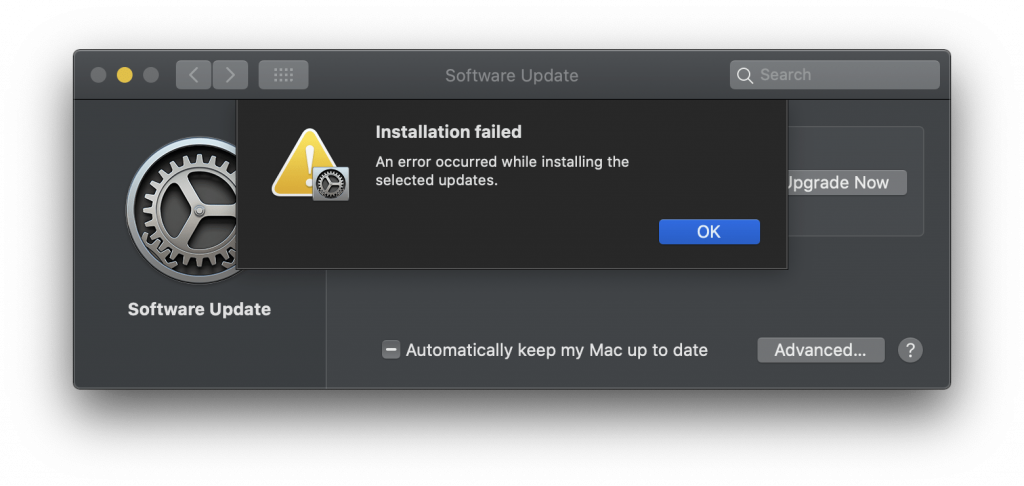 How to Fix macOS Big Sur 11.0.1 Installation Failed Issue?
How to Fix macOS Big Sur 11.0.1 Installation Failed Issue?
---
Got excited that macOS Big Sur is released and kicked off the upgrade process and got the following error? You're not alone.
"Installation failed
An error occurred while installing the selected updates."
Screenshot of Big Sur Installation failed error
This can happen either due to your internet connection is slow or a download server issue that caused the downloading to stop and won't start again.
You were not alone, we too had the same problem and finally fixed it so that download started again.
After trying out a few options, here are the steps that worked.
Option #1
Reboot your Mac, while holding the CMD + R keys
Launch Disk Utility
Chose the Machintosh HD disk from the list
Click on First Aid and hit the Run button
Once it's complete, choose Done and close
Close the Mac or Shutdown completely (This is important, a reboot doesn't work)
When it's back up, go to System Updates and it should continue the download from where it left off (For us it went back to 2.4 GB even though previously it completed up to 5.4 GB)
Option #2 (Since option #1 worked, we couldn't fully test this method)
Launch terminal
Enter this command and hit enter
$ softwareupdate –fetch-full-installer –full-installer-version 11.0.1
This triggered new software updates as well in another machine where unfortunately Big Sur, not supported
Hope this helps and solves your macOS installation error problem and enjoy the new macOS Big Sur.