How to Download Original Full Picture or Photo From Google+ Photos?
How to Download Original Full Picture or Photo From Google+ Photos?
---
You might have already uploaded and shared a photo or picture with a person or a circle on Google+ photos. When the person or the circle see's the picture on their stream, all they can do is double click and view them in Google+ photos.
You'll find a list of thumbnails and as you click the larger view gets updated, but you couldn't download the original full picture (there was no option to do it). This was one of the most sought after feature by many using Google+ photos.
Great news!, now with this new update, download of original full photo from Google+ photos is added.
To protect privacy and better control of sharing, you can ONLY download the full image if the person who shared it allows to do so (refer setting below).
Here is how to download the full photo or picture? (refer the screenshot below)
From your google+ stream, click on the photo you want to download
While you are in Google+ photos (larger view of the picture), click on the Actions drop down button on the bottom of the photo
Choose the Download photo option
Full photo will be downloaded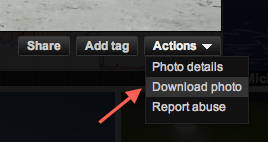 Now for the author or the owner of the photo, here are the steps to allow download of the original photo
While in your Google+ profile
Click on the gear icon on the top most right
Click on the Google+ settings
Goto the bottom of the screen till you find the Photos section
Check the option Allow viewers to download my photos (refer image below)
Now whenever you share a photo, all the person or circles you shared with should be able to download photos
Enjoy sharing and downloading of Google+ photos!!