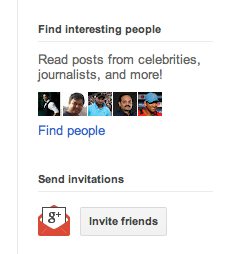 Find Interesting People on Google+ Organized by Your Favorite Categories or Topic
Find Interesting People on Google+ Organized by Your Favorite Categories or Topic
---
New to Google+ or wondering which user to follow? Recently we wrote a post about the top 10 most popular g+ users who have over million+ followers.

Interesting people on Google+
But following just 10 popular G+ users won't help or satisfy everyone. Most of the G+ users are interested in following people from a category or topic of their own choice.
Google+ has introduced a new feature that just allows to that. It is called find interesting people on Google+ organized by categories.
As of this writing you have the following choice of categories (to choose g+ users from)
Picks (Top picks suggested by Google+)
Entertainment
Fashion
Food & Drink
Fun & Interesting
Music
News
Photography & Art
Politics
Sports
Technology
Travel
How to find interesting people?
On the right side of your G+ main stream, you'll find a section called Find interesting people (Read posts from celebrities, journalists, and more!)
Click on the Find people link. You'll land in a dialog with users organized by Categories (as outline below)
In the above screen you can click on Add button to add/follow a category or click on a category to see a list of Google+ suggested users in that particular category (as outlined below)
When you click on a category of users you'll be present with the above dialog. Here you have two options. Either click on the red Add button to add/follow this category (means follow all users in this category) or select a single user in the left and click on Add to circles to just add / follow that particular G+ user.
This is a very useful and one of the most requested feature and it is readily available now.
Find interesting people based on your favorite categories (celebrities, journalists, actors, etc), follow them and have fun!