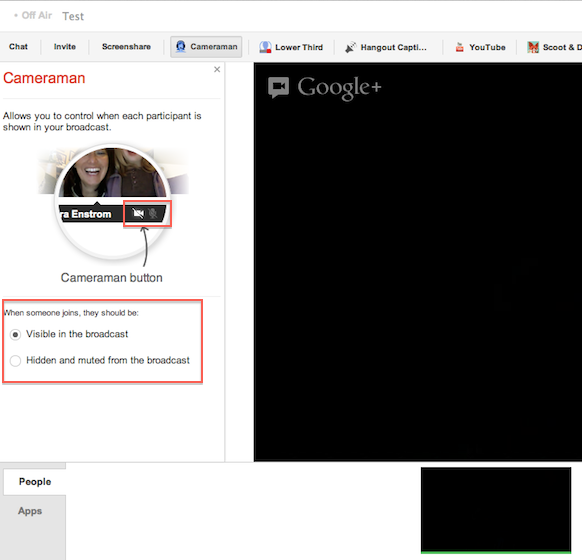 Cameraman Hangout App Lets You Run Your Own Show Inside Hangouts on Air (HOA)
Cameraman Hangout App Lets You Run Your Own Show Inside Hangouts on Air (HOA)
---
We all like to run our own show on Television (interviewing guests, celebrities, etc.,) but the problem is we may need to spend ton of our own money or find a sponsor (which is nearly impossible if you are new).
How about doing the same on the internet without spending a dime? (of course you need to have a computer, internet and a webcam with mic). That too on a social network that is 400 million+ strong.
Google+ hangouts on air (HOA) and the cameraman hangout app makes this all possible.
Hangouts on air is a cool feature in google+ that lets you to broadcast video live as well as automatically record and publish the video to YouTube.
What is Cameraman hangout app?
Cameraman hangout app (is a hangout app) available inside hangouts on air that allows to easily invite guests/participants and gives you the control to bring one guest/participant to the broadcast (similar to a real television show).
In other words, normally in any regular hangout all participants (up to 10) appear immediately on the broadcast. This hangout app gives you the ability to control who appears or not (You are the cameraman).
You can also choose to allow more than one guest appear on the broadcast based on the highlighted setting in the image below.
Now let your imaginations run and create great shows, Enjoy!