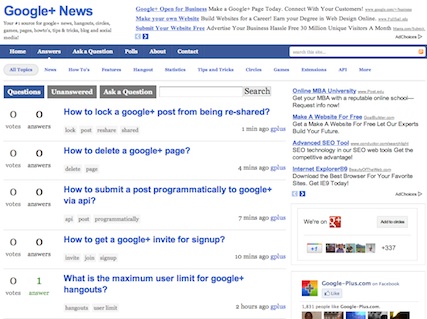 Google+ Question Answers / Forums Added Today!
Google+ Question Answers / Forums Added Today!
---
Over the past 6+ months since the launch of this google+ news site, many google+ newbies, beginners and others asked questions about various g+ features through contact form or by directly emailing us.

Google+ Questions Answers / Google+ Forums
We replied individually with as much details we could as well as pointed to helpful posts. Sometimes for answers that need broad explanation we even wrote a post and shared the link with them.
But overtime volume of questions and ask for help has grown and it was quite harder to keep up with the pace. Today we're proud to launch a Question Answers / Forums section on this site which will make the process easier for every one i.e ask a Google+ question and get answered by the community (more hands to help will speed up the process and could serve better).
You'll find list of all Google+ Questions, UnAnswered Questions and Ask a Question under the new Answers section of the site.
For benefit of the community, over the next few days we'll add some of the common questions (edited and cleaned up for brevity) asked before under system account called gplus.
There is no sign up (or username/password) required to ask or answer a question. Just login with your Google+ account (by just clicking on LOGIN WITH GOOGLE+ button [Don't worry, Google+ won't share your email or password with us]) and automatically you'll be able to ask/answer a question.
We take this opportunity to call on all Google+ experts / early adopters out there to help and share your ability with anyone who needs help or has questions.
Like before, we're committed to give the best of our support possible.
We hope you all like this new feature. Please leave your comments below.