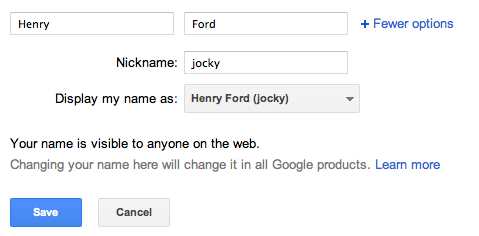 Google+ Adds Support for Alternate Names: Nicknames, Maiden Names, Pseudonyms or Other Names After New Naming Policy Changes!
Google+ Adds Support for Alternate Names: Nicknames, Maiden Names, Pseudonyms or Other Names After New Naming Policy Changes!
---
Are you one of those Google+ user who is familiar/known by a different name than your real name? Then this change is for you.
With this new change, you can add your alternate name (nickname, maiden name or a name by which you are known) to your real name. It will appear alongside your name based on your selected preference.
For e.g, let's say your real name was Henry Ford, with this new change, you are able to add your nickname for e.g rocky to your real name so that it seems as Henry Ford (rocky). Now your friends or followers will be able to find you better than before.
Let's see how to set your nickname (that appears next to your real name [refer image above])
Goto your Google+ profile by clicking on your name on the top left
Click on the Edit Profile button
Now click on your name (the first line on your profile)
A dialog to edit your full name appears
Now click on +More options
Type in a nickname (our example we typed rocky)
In the drop down below, choose how you want the name to appear on your profile and hover cards
Click on the Save button
Some points to note while changing names
Names once successfully changed, cannot be changed again for up to 3 months
Want to use pseudonyms? Sure, but with limitations. You have to provide proof with some form of valid identification about how that pseudonym was used in real life (license, printed material, official documentation, etc). They may even ask for more evidence before approving. Changes are reflected only after receiving evidence and approval
If your name got flagged by the system for some reason, follow the same step as before to prove your identity
All changes are global (which means once changed in Google+ will reflect across all google products; remember Google+ is a identity service)
Here is what Bradley Horowitz of Google+ has to say about this change
Over the next week, we'll be adding support for alternate names – be they nicknames, maiden names, or names in another script – alongside your common name. This name will show up on your Google+ profile and in the hovercards which appear over your name. In the next few weeks, we'll be displaying it more broadly as part of your name in other areas of Google+ as well. So if you're Dwayne "The Rock" Johnson, Jane Doe (Smith), or सौरभ शर्मा (Saurabh Sharma), you can now communicate your identity the way you want to.
If you are not seeing this change in your account, please give some time before this feature is enabled for your account. We tested this and it worked just fine.