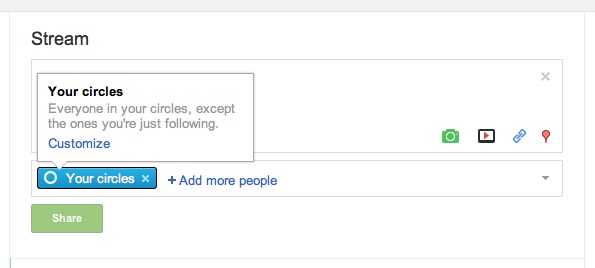 Customize 'Your Circles' for Best Results and Targeted Google+ Sharing
Customize 'Your Circles' for Best Results and Targeted Google+ Sharing
---
You wrote a post or want to share a interesting link (that you came across online) with your circles in Google+. The fastest way to share (with all your circles) is by adding 'Your circles' chip in the share box (refer image below) and hit the Share button.
What is 'Your Circles'?
It is a collection of everyone in your circles excluding the ones you're just following.
But sometimes you don't want to share with everyone in all the circles and may want to maintain a one-way relationship. Your Circles customization just gives that flexibility to include/exclude circles (that are to be part of  'Your Circles' collection).
This way you can easily distinguish between circles you always want to share with and circles you are just following (for eg. a celebrities circle).
Here is how you share with Your circles. If you hover over Your circles chip, you'll find a flyover popup with a customize link.
Customize Your circles section under Google+ settings
Including / Excluding circles that are part of your circles
Customize 'Your Circles' and share with the right audience for better results.