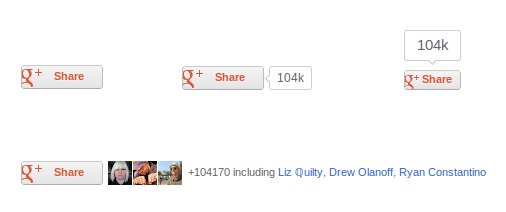 Google+ Share Button Released : Quick One Click Share Right Away to Google+
Google+ Share Button Released : Quick One Click Share Right Away to Google+
---
Google+ team has released a new share button (i know it's confusing but not to be confused with +1 button) that you could embed in your websites which allows to quickly share to Google+ with click of a button.
The objective of this button is very straightforward i.e sharing the page with your google+ friends or circles right away with a single click; whereas +1 button is just a vote on the page and takes a extra step to share the page on Google+.
Here are the various forms of the G+ share button (this is a larger version but you could also create a smaller version)
Like the +1 button, there is a configuration tool available on google developers page where you can customize according to your needs and get the code snippet to include in your pages.