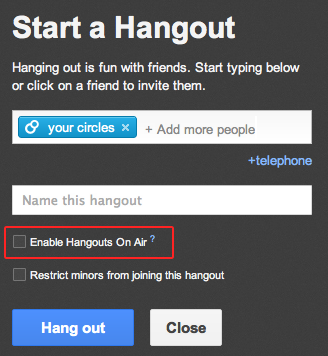 Hangouts on Air With Recording Feature Now Available in 220 Countries
Hangouts on Air With Recording Feature Now Available in 220 Countries
---
Hangouts on air is a cool feature that automatically live streams, records and broadcasts hangout video on YouTube. In addition to that it allows up to 10 users to take part in the hangout and an unlimited number of users to watch it live via google+ stream and youtube live stream.
Initially this feature was only released too few selected popular users on google+. And few weeks ago it was released to a large user base in around 40 countries and promised to roll this out to every single google+ user.
Today +Mathew Leske, hangouts product manager have announced that hangouts on air feature roll out is complete and now available to all google+ users in over 220 countries, Wow!
To check if it is enabled for you, just click on the Start Hangout as you would normally do and in the following screen look for the checkbox Enable Hangouts on Air (refer image below). At this point everyone should see this.
This feature is going to play a significant role and transform forever how collaborative communication happens on the internet. Let's wait and see. Please share your thoughts through comments below.