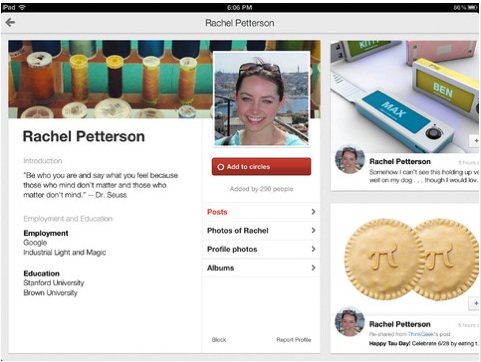 Google+ Ipad App Released as iOS App 3.0 Update on Appstore Today!
Google+ Ipad App Released as iOS App 3.0 Update on Appstore Today!
---
When google announced the latest statistics about it's google+ social network last month, you might have noticed that the network is accessed and used more through the mobile than the desktop.
It is no secret anymore that people use social networks more on mobile devices than the desktop. This applies to facebook, twitter, linked in, pinterest, instagram, etc., to name a few.
When it comes to google+ large growth on the mobile came after the recent redesign of the iphone and the android app. This change covered large number of smartphone users but however it left out iPad tablet users; one of the single most dominating tablet on the market.
It's a known fact that ipad users expect a rich and native user experience that takes advantage of the large form factor and the better resolution (using an app designed for phone is not going to help on ipad). The proof exists with thousands of apps on the appstore specifically written for ipad.
We've found numerous request for a native Google+ ipad app all over the internet. The good news is google+ mobile team has issued an 3.0 version update of it's google+ ios app which fully and natively supports the iPad.
This is the same app that is available for iphone but behaves differently when accessed from an ipad. Download the app from appstore or install / update from your ipad.
Some of the features
Full ipad experience
Pinch and expand to write a comment
Use two fingers to drag and easily re-share it
Start an hangout right from your iPad
Stream an hangout to your TV via AirPlay
Enjoy the all new google+ ipad app.