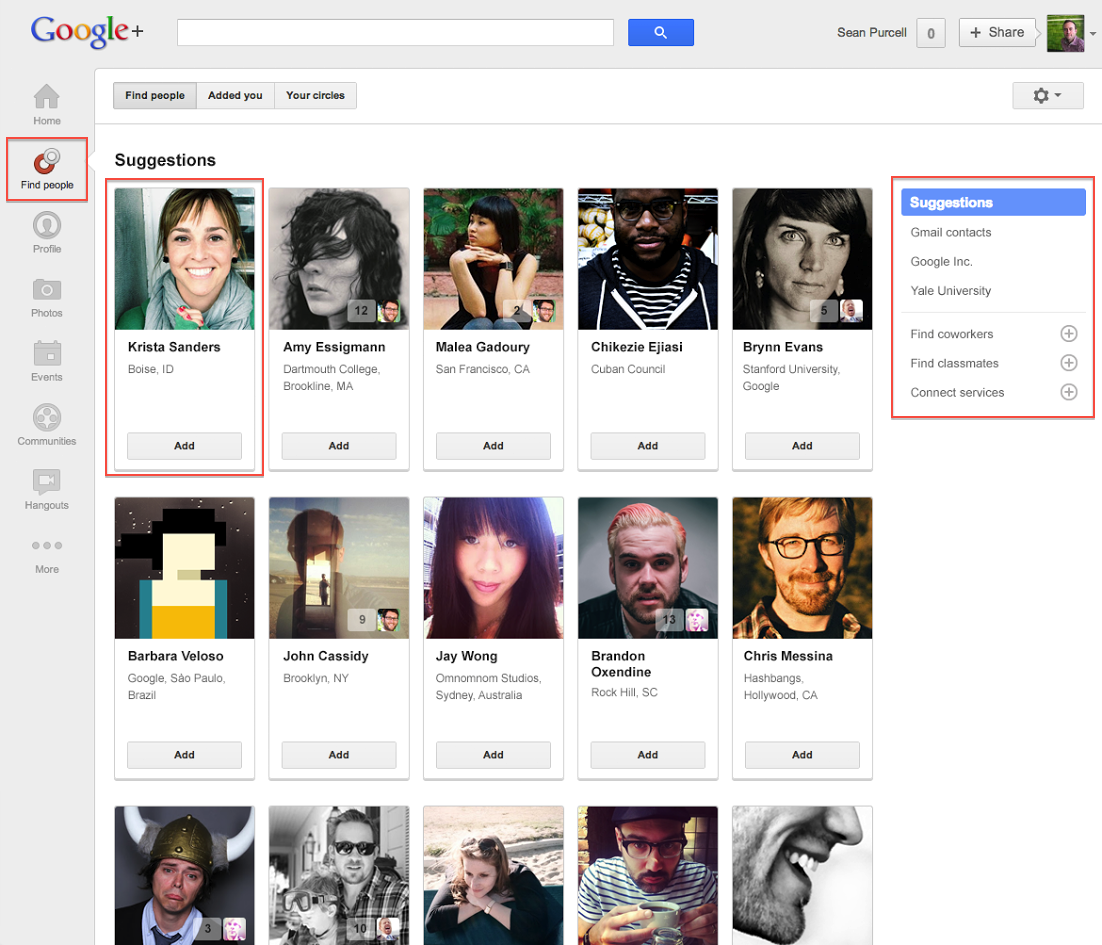 Circles Icon in App Ribbon Renamed to 'Find People' With More Features Today!
Circles Icon in App Ribbon Renamed to 'Find People' With More Features Today!
---
Google+ team today renamed the Circles icon in App ribbon (refer image) to Find people with some major enhancements to finding and adding friends and people to your circles.
With over 500 million+ total users and 330 million+ active users, Google+ is growing faster than ever imagined. Prior to this update, it was kind of hard to figure out if my friend, colleague or business partner is on Google+? With this cool update they have changed it all for good.
Now finding your friend, classmate, colleague or pretty much anyone you are connected is a breeze. All you have to do is click on that little 'Find people' ribbon and let the Google+ do all the hard work for you.
Quick summary of changes
Circles ribbon renamed to 'Find People'

New cool people cards with Add buttons
More suggestions based on your Gmail conversations, Schools you have studied together, Employers you have worked together, other email accounts connected to your google account.
Here is the update from +Sean Purcell, Google product manager…
With so many new people signing up for Google+ every day, it's easy to miss friends and colleagues who've recently joined. So today we're making some updates to Google+ to help you find people you care about and add them to your circles.

For starters, the Circles icon in the app ribbon is now labeled Find People. Click through and you'll find a new page with a list of people you might want to add. We'll show you people you're already talking to on Gmail and other Google products at the top of the page. To get even more suggestions, it's easy to search by your school, workplace, or other email accounts.

If you want to organize the people you've added a bit further, you can always click the "Your circles" button at the top of the page. From there you can use the circle editor to see all of your circles and decide who belongs in each one.

We hope this update helps you find and build great connections on Google+. Let us know what you think in the comments!
Give it a shot and we are pretty sure you'll find it useful, Enjoy!.