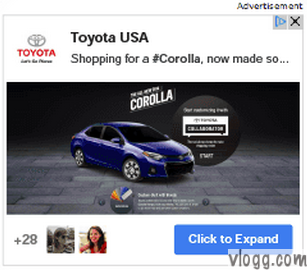 Post Ads: Turn Your Google+ Post, Photo, Video or Hangouts Into Engagement Ads
Post Ads: Turn Your Google+ Post, Photo, Video or Hangouts Into Engagement Ads
---
Google today released Post Ads in beta, an innovative new Ad format that allows to turn your Google+ post into Engagement Ads on Google Display Network.
In the past, other social networks introduced promoted content that created a huge uproar among users since it interfered with their social stream and experience. Most of the time, all you see is promoted posts on your stream and you have to literally hunt for useful content shared by your friends or family. Definitely not a pleasant social experience and we're not their to view ads in the first place. From a network standpoint, It may bring quick revenue (for the network) but in the long-term this is not sustainable and may even drive users away from the network.
It has been 2 years since Google+ inception and Google was very careful in not introducing ads or promoted content inside Google+. It is always smart to learn from others mistakes.
So, Google has taken a totally different approach in terms of advertising within Google+. Instead of interfering with user's social stream, Google Post Ads (new Ad format released in beta today) takes a promoters brand content (Google+ post, photo, video or even Google+ Hangouts from their Google+ pages) and promotes them as Ads in Google Display Network (not inside Google+). This promoted content will appear outside Google+, throughout the Google Display Network and Partner sites (Adsense) and at the same time promote user engagement without interfering in their social stream i.e User seeing this Ad may choose to comment, +1, share or follow the brand promoting the ad. In simple terms, the user can pretty much do all the functionality as that of a Google+ stream. Pretty smart huh?
And best of all: You can still target your audience (through Adwords) for demographics, affinity segments, contextual targeting and even platforms like desktop, mobile, tablets, etc..
Checkout this following video of how Toyota is using this new Post Ads to promote and engage their brand. Also checkout this page that explains the process through a carousel.
What is Post Ads? [Video]
http://www.youtube.com/watch?v=4yCUgx7H2zo
How to Signup for Post Ads?
Post Ads is in beta and only available for limited set of Adwords advertisers. If you are interested, submit your details through this form and Ad team will be in touch with you shortly.
I personally think Post Ads is a great idea to promote your product or service as well as bring social engagement and without messing with Google+ users social stream. What do you think about Post Ads? Please share through comments below.