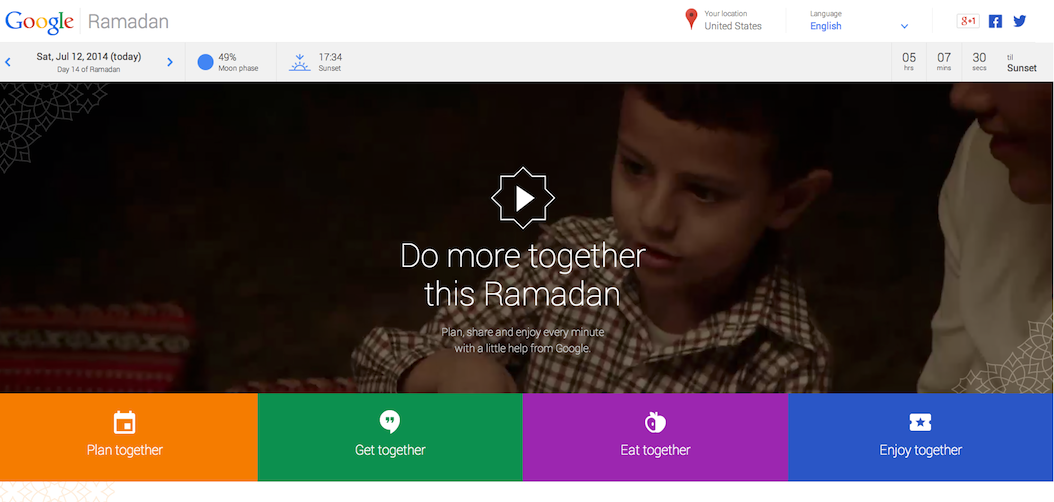 Google Ramadan: One Place to Plan, Share & Enjoy Ramadan
Google Ramadan: One Place to Plan, Share & Enjoy Ramadan
---
It is time of Ramadan again (holy month for Muslims around the world) and you'll be busy fasting and hosting iftar (breaking fast) parties.
Google wants to help and make this Ramadan even more fun and easy. So they have a released Google Ramadan, one central place to Plan, Get Together, Eat Together, Share and Enjoy Ramadan in 2014.
Google Ramadan Features
Track Moon Phase
Which day of Ramadan? localized according to your location
Fasting time (Learn about Sunrise and Sunset time) data powered by PrayTimes.org
Plan Events powered by Google Calendar right from this page
Host iftar parties and get together in person or online (powered by Google+ hangouts)
Find and share your own Ramadan recipes using hashtag #ShareRamadan
Entertainment with curated content from YouTube and Play Store
Visit Google Ramadan page here.
Make use of the beautifully designed Google Ramadan page, FREE tools & spend more time with your family, friends and prayers.
Don't forget, Ramadan is also about generous giving to those are in need and share the joy.
Wish you all a Happy Ramadan 2014.