Google Celebrates Its 15th Birthday With a Piñata Game Doodle
Google Celebrates Its 15th Birthday With a Piñata Game Doodle
---
Google is celebrating its 15th birthday and doing it the Google way with Doodle's, Easter Eggs, Timeline and History.
If you visit Google.com today you'll greeted with a Piñata Game Doodle (refer image below).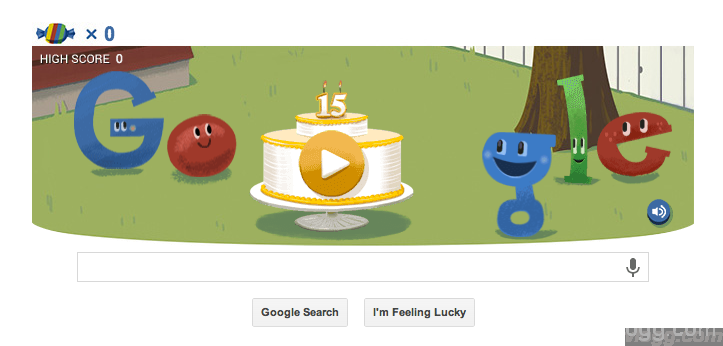 Play the Piñata Doodle Game and share your Score through Google+
Checkout the game and share your highest score on Google+. It is fun to play.
Google in 1998 Easter Egg
On the eve of 15th birthday, google has introduced a new easter egg. Just type google in 1998 and see what happens…
HINT: Get a glimpse of  your favorite search engine as it appeared in year 1998 (when it was launched).
Google Timeline
A timeline representation of important events at Google for last 15 years organized by month and short description about each event (when you hover over the picture). Click Here to checkout Google Timeline.
History of Google
A detailed history of key events at Google right from the registration of Google.com to all the way up to the recent 1 billion android activations. Click Here to view History of Google by Year/Month.
From us and on behalf of our readers, we take this opportunity to Wish Google a Happy 15th Birthday! Like everyone, we expect to see more and more innovative products and services from Google in coming months and years.