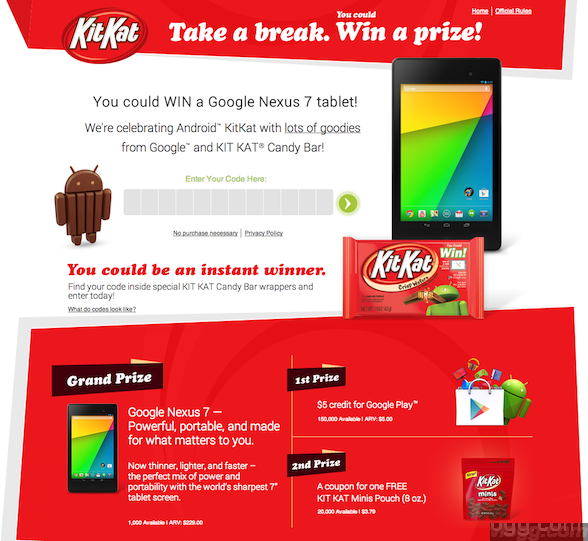 How to Play Android KitKat Contest?
How to Play Android KitKat Contest?
---
As announced during the Android 4.4 launch, the KitKat contest to Win a grand prize of Google Nexus 7 Tablet along with other prizes is now ready for play.

Android KitKat Contest Prizes
Grand Prize (1000 prizes) : Google Nexus 7 Tablets
1st Prize (150,000 prizes) : $5 Credits for Google Play
2nd Prize (20,000 prizes) : Coupon for one FREE KitKat minis pouch
How to Play?
There are two ways to play the contest. (First one requires purchase of a KitKat while the second one doesn't but requires to send your personal details)
Option #1: Buy KitKat's marked as Android KitKat and you'll find Code inside the wrapper which you can enter on this page to find out if you're a winner.
Option #2: Request a FREE Game Code by sending a 3″x5″ card with the following details to Android / KIT KAT® Instant Win Game Code Request, P.O. Box 760023, El Paso, TX 88576-0023 no later than 31st January 2014. (U.S. Residents Only)
Full Name

Full Address
Date of Birth
Email Address
Once you receive the 12 character Game Code, Just enter on this page and Instantly Find Out If you are a Winner.
Go Play and Share details What you have Won?