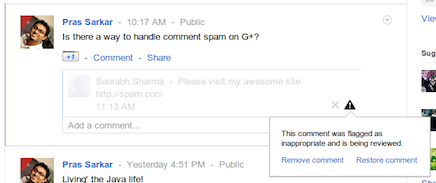 Google+ Comment Spam Moderation System Rolled Out – Spammers Stay Away!
Google+ Comment Spam Moderation System Rolled Out – Spammers Stay Away!
---
Spam, Spam, Spam; That is the buzz word in the online world. Everyday we deal with spam in emails, comments, social networks, sms besides many other products whichever is vulnerable to spam.
Spammers prey mostly on popular sites and social networks to get their marketing message out in order to make a profit. We have to admit that facebook has done a wonderful job in curbing spam. But spam cannot be controlled or curtailed just by machines. Machines need to be trained and need help from us, the people.
With Google+ relatively new and being the fastest growing social network soon gonna be a target for spam. Right now we find some here and there but if we let loose it's gonna creep all over the place. You can also read our early post about How to fight spam in Google+?
Think about how we used to deal with spam everyday prior to the arrival of Gmail. It was a nightmare; everyday we use to look for genuine emails among ton of spam mails. After switching over to Gmail and thanks to it's most powerful spam control system, we almost get zero spam mails into our inbox – Thanks to the wonderful job done by Google.
Want to see the same here in Google+? We've got great news for you. Google+ team has finished and rolling out a all new comment spam moderation system for Google+.
If spam moderation system detects a comment as spam, it'll do the following
It will be immediately marked for review
Others won't be able to see this spam comment (It'll be hidden and only visible to you)
It'll be grayed out inorder to differentiate between a regular and a spam comment (marked for review)
You'll find option to remove it altogether or approve and restore it
Person who wrote the spam comment won't see any difference until you delete the comment itself
But the new Google+ spam moderation system needs our help, it needs training.
How do you provide training to a machine? Very simple in this case. All you have to do is whenever you find a spam comment, flag it immediately in order for the system understand the pattern. The more spam comments get flagged the better the system becomes (remember the Gmail spam detection system and the report spam button).
For spammers, you better stay away from Google+. Google+ is an authenticated system using your google account. It is not like any other website where you can leave a anonymous or a guest comment with your spam message and leave no trail besides an ip address. Here it is totally different, if you spam you identity (google account) is tied to it. There is greater chance of your google account suspended or even permanently removed.