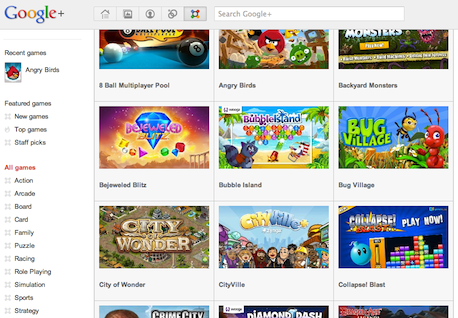 Google+ Games With New Features and 4 More New Games Released!
Google+ Games With New Features and 4 More New Games Released!
---
Recently we wrote about the addition of 7 new games to Google+ games that was well received by gamers. More choices means challenges and more fun for game lovers.
Now even more good news for gamers. Google+ games section has gone through a major overhaul providing more control and options for picking and selecting your favorite games.
And that's not all, 4 more new games address as outlined below. That raises the total to 32 games in Google+.
New features and Changes
Featured games a new section is added
Under featured games, you can filter games by : New games, Top games and Staff picks
Game genres a new section right below featured games is added
You'll find All games and games grouped by genres : Action, Arcade, Board, Card, Family, Puzzle, Racing, Role Playing, Simulation, Sports, Strategy
Hovering over a game in the list shows a detailed description of the game
Learn more link in the game description takes directly to the games Google+ page
Option to remove and revoke access to a game you are not interested in playing anymore (click on the game under recent games section, after going to the game page you'll find a drop down arrow in the bottom of the screen, click on it and select remove game and follow onscreen instructions)
Four (4) new Google+ games
8 Ball Multiplayer Pool
Shoot eight ball pool against live players. POT the 8 BALL LAST, after you've potted your other balls to win. Visit the shop and buy awesome new cues. Now with new 16 and 32 player tournaments!
Backyard Monsters
Raise a monster army, attack other players, and defend your base in the best real-time strategy game on Google Plus!
GT Racing: Motor Academy
Experience the richest racing simulation ever released online- and the best part is it won't cost a thing to get started right now!
The Godfather: Five Families
Learn the ropes, build your empire, and rule the streets of New York in a brand new strategy game! Do you have what it takes to rise to the rank of Don? Join the family today.
Gamers enjoy and please share your thoughts, keep gaming!