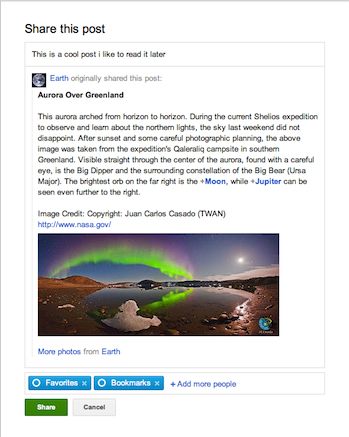 How to Bookmark or Save Favorite Posts in Google+?
How to Bookmark or Save Favorite Posts in Google+?
---
You came across that interesting post/content on Google+ but you were on a rush so didn't get a chance to read it. Later when you returned to main stream that post is gone.
The stream is constantly updated/refreshed as and when new post arrives (shared by people who are in your circles). If you follow only a few people it's not a problem. But if you follow a lot of people (especially popular ones), then there is a big chance that ton of content being shared.
Unfortunately Google+ doesn't come up with a way to save bookmarks or mark a favorite post. You may find that post if you remember the keywords through Google+ search or saved the post link somewhere.
But don't worry, there is a better and smarter way of doing it.
Bookmark post / Favorite post in Google+
Create an empty Google+ circle called Bookmarks
Create another empty circle called Favorites (optional if you decide to keep bookmarks and favorites to track separately)
Goto the post in main stream that you want to bookmark
Click on the Share link in the bottom of that post
Click on +Add more people link and choose Bookmarks and/or Favorites circles
Optionally type in a note or a comment for yourself (so that you don't wonder why you bookmarked this)
Click on the Share button
That's it, You're done (this post is available for your future read)
Next time when you find an interesting post, just click on Share and add Bookmarks and/or Favorites circles.
Later when you want to read that favorite post, click on the circle Favorites or Bookmarks on the left of main stream and voilà, there is all your favorite or bookmarked posts.
When you create circles normally they get added to the end of the circles list. Use re-order circles and move it to the top of the list or wherever it's convenient for you so that these two circle names appears in the top of the list in main stream.
We're pretty sure Google+ is going to add bookmark and/or favorite features into the product in the future. Meanwhile using this circles technic comes handy.