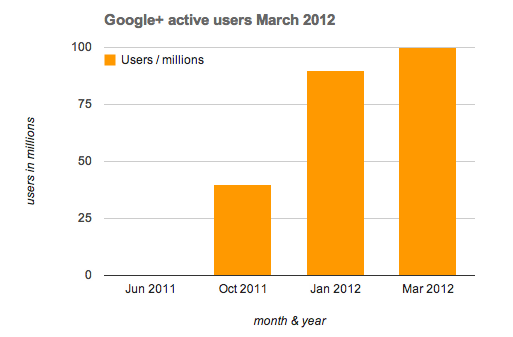 Google+ Crosses 100 Million Active Users in March 2012 According to Larry Page
Google+ Crosses 100 Million Active Users in March 2012 According to Larry Page
---
Wondering how many active users does Google+ (the new social network) have? Well in january 2012, we reported that google+ crossed 90 million+ users which was official statistics from google CEO Larry page during 4th quarter earnings conference call.
Google+ has over 100 million active users as of march 2012
In our earlier 90 million+ users report we've also mentioned that we may hear about the next update as part of Google's next earning conference call i.e on April 12th 2012. But surprisingly Google's CEO Larry Page has released a open letter to the public about what's going on in Google.
As part of the letter we also found official update about G+ active users. According to the letter it's official that over 100 million active users are on Google+ as of march 2012 and growing rapidly.
Here is what Larry has to say about Google+ in the open letter
It's still early days, and we have a long way to go. But these are tremendously important changes, and with over 120 Google+ integrations to date (including Google Search, YouTube and Android), we are on the right track. Well over 100 million users are active on Google+, and we're seeing a positive impact across the Web, with Google users being able to recommend search results and videos they like—a goal we've had ever since we started the company.
Google+ has been showing steady growth month over month and has achieved 100 million+ active users in under 9 months. Hope this is more than enough data to put an end to nay sayers and ghost town talkers.