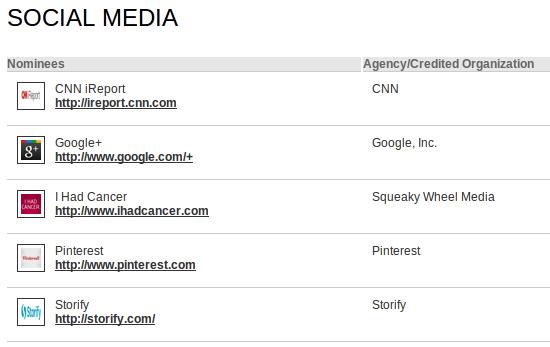 Google+ Among the Top 5 Sites Nominated for 2012 Webby Awards Under Social Media Category
Google+ Among the Top 5 Sites Nominated for 2012 Webby Awards Under Social Media Category
---
Webby awards is a annual leading award honoring excellence on the world wide web (the internet). Every year thousands of sites are submitted, nominated and finally a winner is selected in each category.
Google+ is a very young and brand new social network with just being 10 months old but at the same time has over 170 million users. So, this is the first year for Google+ facing the webby awards.
But the great news is Google+ is one of the top 5 sites nominated in the social media category.
Want to know the winner?
Stay tuned for May 1st 2012 when the winner for webby awards will be announced in each category.
Congrats to Google+ catching a spot in the 5 nominees under social media category and our advance wishes to win 2012 webby awards.
Webby awards winner update
Pinterest wins the Webby award for 2012
Google+ is the People's Voice Winner (Let's see next year, anybody dare to challenge Google+ for Webby Awards 2013?)