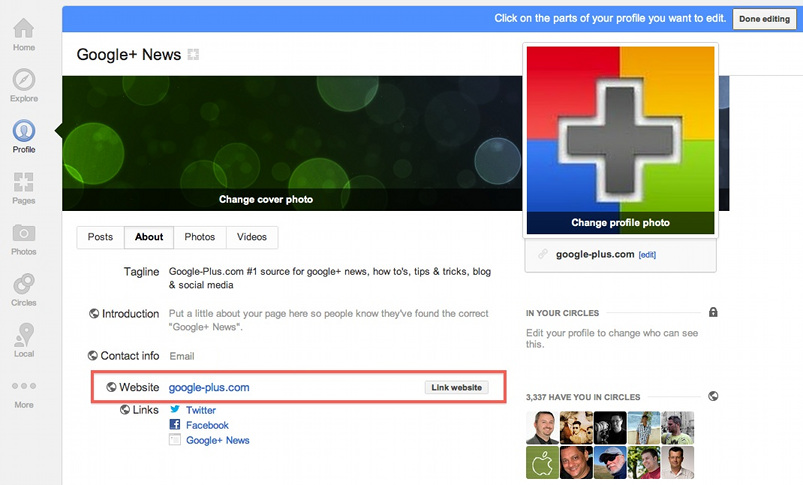 How to Link Your Website to Your Google+ Page With a Click of a Button?
How to Link Your Website to Your Google+ Page With a Click of a Button?
---
Linking your website with your google+ page has many advantages. One of the immediate advantage is appearance of your recent posts to the right in google search results a.k.a SERP's.
This creates better visibility for your brand, brings more followers to your business page and in turn more organic traffic for your website. With more organic traffic your website will rank better on search engines without spending a dime, cool huh?
Up until now it was kind of hard, hassle and more technical to link your website with your google+ page. Not anymore. With this new update link with the click of a button called Link website.
How to link website to google+ page step by step
Goto your google+ page (for e.g. https://plus.google.com/110885424279358855191/posts)
It'll prompt You are  a manager of this page with Switch to this page button
Click on Switch to this page button
Now click on the Profile icon on the navigation ribbon on the left
Click on Edit profile button
Hover over the area that says Website and click on it
You'll be prompted for a website address
Enter your full website address (for e.g https://vlogg.com)
Click on Save button
Once you saved the website address, you'll find Link website button just next to the link you just added
Click on the Link website button
A dialog will appear with details of a single line of html code that you have to add to your website's home page
Highlight and copy that piece of html code (You may also click on Email these instructions and do it from the email)
Goto your website and paste that html code in your home page
Once you are sure you've done it correctly, come back to the above dialog and click on Test website button
Google+ will verify if you're code is added correctly to your website and a Test successful will appear with details
You're done. Google+ will take care the rest for you. In a day or two the link will happen and you'll start to see recent google+ posts next to your search results
After a couple of days you should see a check mark indicator next to this website link you added on your google+ profile. That indicates the link is established and you should relax. If not then something went wrong and you may want to repeat above steps carefully once again.
How to unlink your website from google+ page?
The steps are same as above. Just go to your google+ page and remove the website from your profile (Click on the website area and blank out the website link and click save) and also remove the html code that you added to your home page.