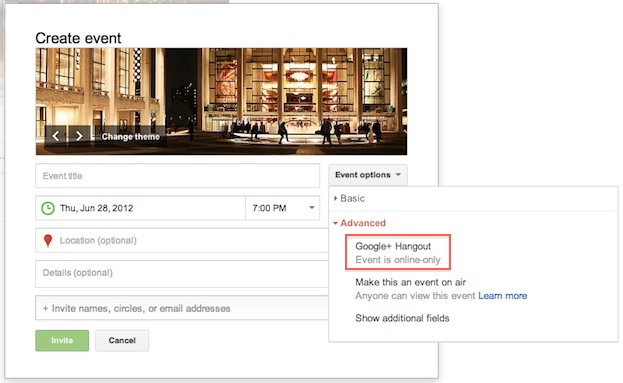 Google+ Events With Scheduling Hangouts and Many Other Features Launched [Video]
Google+ Events With Scheduling Hangouts and Many Other Features Launched [Video]
---
Google+ events was rumored for the past few weeks and now it's a reality. Today as part of Google I/O 2012 developer conference, events is officially released and it's amazingly rich in features.
We've personally heard from many friends as well as through feedback that events is a key feature they are waiting to switch from facebook to Google+.
With hangouts in mind, scheduling one makes a lot of sense vs on the go hangout. On the go doesn't give enough time for everyone to join and discuss on a topic. However when you schedule one (which most of us were doing anyway with manual and offline effort) it has better reception.
Since hangouts was one of the hottest G+ feature, it's users expected and requested this feature quite often. Now it's finally here.
Create a Google+ Event
Click on the Events icon in the navigation ribbon and click on the Create Event (red button) on the top right  (or click on the Create a event image on the bottom right of your main stream page).
Schedule a hangout
Just create a event and click on the drop down labelled Event options and under advanced choose Google+ hangout (as highlighted in the above image). Fill in the rest of the details and click Invite. That's it, your hangout is scheduled and everyone (you invited) get's notified.
Party mode
Snap and share pictures to the event in real time. When you accept (going for an google+ event) and use your google+ android app you could instantly shoot and contribute photos for the events. All participants with the android app become instant photographers for that event to capture and share best moments. Cool huh?
Google calendar integration
Another great feature of events is, it's tightly integrated with google calendar. When you create a event or join a event, it's automatically synchronized with your calendar which in turn helps to better plan your time.
Google+ events introduction video
Events are integral part of our life. Right from personal birthdays, weddings, sports events to at work meetings, picnics, etc happen everyday.
Having events part of the social network helps to better organize, collaborate and share information in real time. With Google+ giving utmost priority to privacy this is a great value add to the network and could soon become one of the hottest features.
What do you think about google+ events? Please share your thoughts through the comments section.