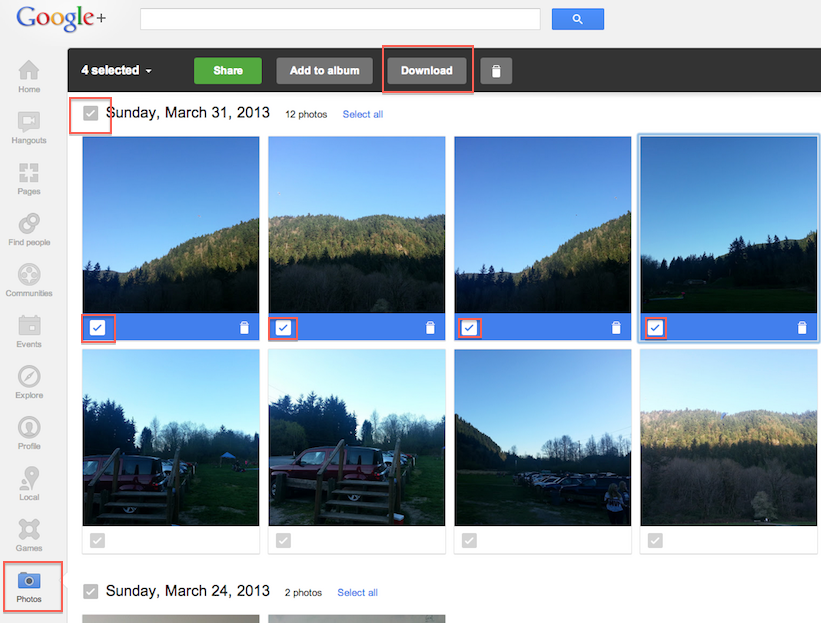 How to Download Instant Upload Photos From Google+?
How to Download Instant Upload Photos From Google+?
---
Instant Upload when enabled is a great feature that automatically uploads and sync's photos (via your google+ mobile app) as they are taken from your smartphones.
But until now it was not easy to download them as an album or multiple photos at a time (however you can download one photo a time).
Not anymore. Now you to flexibility of downloading your instant upload photos as an individual photo, albums, multiple albums, etc.
Steps to download instant upload photos
Goto Google+
Click on Photos icon from the left navigation ribbon
Click on Instant Upload in the menu that appears (or click on Instant Upload tab in the top)
Now all your Instant Upload photos and albums show up
Look for the tick symbol checkbox next to each album and photo (refer image)
Click on the tick symbol checkbox on a album or photo you want to download
You'll find a Download flyover popup appear in the top
Just click on Download and you are done
Never lose another photo anymore. Just enable Instant Upload feature in your Google+ mobile app and get your photos automatically backed up to Google+ photos for FREE in the background. And from Google+ you can either download or share with your friends or circles with a click of a button.
Now Google+ even allows full size upload of your photos in full resolution based on your available drive storage. Another great news is there is no limit of how many photos you can store in Google+.
So, Just upload and keep your memories safe and secure on the Google+ cloud for FREE. Photos uploaded are private to you and never shared with anyone unless you share with your friends or circles. Enjoy!